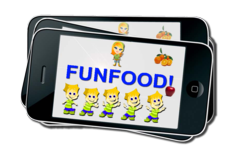 "FunFood!" slips kids servings of healthy food knowledge in the guise of an entertaining game.
Los Angeles, CA (PRWEB) June 28, 2011
Millions of parents must be struck by this irony: their children seem to have an insatiable appetite for growing virtual vegetables on the web-based video game Farmville, and yet cannot be induced to touch the real thing at the family table. Well, when you can't beat 'em, join 'em. A new iPhone application "FunFood!" slips kids servings of healthy food knowledge in the guise of an entertaining game. Depending on the foods they pick, game players can make a cartoon avatar's girth balloon out or slim down.
The "FunFood!" app is being released at a time of rising concern about the health of the American population. Because childhood obesity affects approximately 12.5 million children ages 2 to 19, or 17 percent of the population, according to the Centers for Disease Control, educating kids about good food choices at an early age is critical.
"We know that children need to be coached to make good food choices," says Stacy Burstin, co-founder and President of SociaLife, the Valencia, CA, company that developed the "FunFood!" app. "We designed the game to help parents team up with their kids to make healthy eating part of a playful activity."
To help parents engage kids in this process, SociaLife's iPhone application comes with a helpful free tool, the "FunFood! Curriculum Companion." Available to buyers of the app, the companion supplies parents with questions and topics to engage their children about food choices in a fun way.
Because games are a part of children's every day life, SociaLife embraces games as part of a tool to help parents communicate with their kids. "Through "MEDertainment" - a process of building play into health - educating your kids becomes a fun and entertaining process for both of you," says Burstin.
The iPhone app "FunFood!" costs $0.99 and can be downloaded at http://itunes.apple.com/us/app/funfood/id441996352?mt=8
Once consumers buy and download the "FunFood!" app, they can obtain the free "Curriculum Companion" by downloading it to their iPhone or by having it emailed to them. They can also visit SociaLife's web site for further information.
ATTENTION MEDIA: Reviewers may contact info@esocialife.com for a code to download a review copy of the app.
ABOUT SOCIALIFE: SociaLife "Builds Play into Health" through MEDertainment®. SociaLife's founders include leaders in the entertainment, technology and healthcare industries.
###