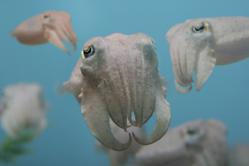 (PRWEB) June 08, 2011
Something is in the water in various exhibits at the Monterey Bay Aquarium this summer. Dapper juvenile penguins are now back on exhibit, joined by several young cuttlefish and behind-the-scenes snowy plover chicks hatched recently.
Key Facts on Penguin Chicks:
The aquarium's first-ever African blackfooted penguin chick hatched on January 8.
Soon after another penguin chick hatched and both males were moved behind-the-scenes to be hand raised by aviculturists.
Beginning June 1 the two males – Pebble and Tola – were introduced back to the penguin exhibit, joining the colony of 18 other blackfooted penguins.
To keep up with the chicks' progress click on the video link to the right or visit Sea Notes blog (http://montereybayaquarium.typepad.com/) and the aquarium's Facebook fan page (http://www.facebook.com/montereybayaquarium).
Key Facts on Cuttlefish Babies:
Behind-the-scenes pharaoh cuttlefish laid eggs that are being cared for and will be integrated into the Splash Zone exhibit soon.
On exhibit now are 16, three-month-old cuttlefish (a couple of inches in length) that came to the aquarium from another facility.
Cuttlefish can hover like submarines, thanks to a porous internal shell called a cuttlebone that's divided into small sections. By varying the amount of gas and liquid filling these compartments, they control their buoyancy and their position in the water.
Key Facts on Snowy Plover Chicks:
The aquarium recently had its first snowy plover chicks of the season hatch behind-the-scenes.
Each year snowy plover birds in distress and eggs that have been abandoned are often brought to the aquarium – one of the main rehabilitation sites for shorebirds in Monterey County. The aquarium's goal is to release the chicks to the wild once they satisfy a lengthy checklist.
Since the aquarium's plover recovery program began in 2000, 53 chicks have been raised, including 34 hatched from eggs. In all, 58 snowy plovers of all ages have been banded and released from the aquarium. Visit the aquarium's live aviary web cam to visit snowy plovers and other shorebirds.
###