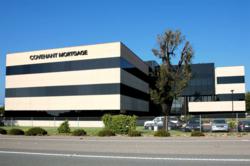 Lake Forest, CA (PRWEB) June 05, 2011
Covenant Mortgage a leading provider of mortgages located in Lake Forest, CA is expanding its mortgage operations and hiring Experienced Loan Originators!
If you are an outside Loan Originator with a book of business and a proven track record you'll want to contact Covenant Mortgage and learn about their excellent compensation plans considered generous by industry standards for successful Loan Originators. Covenant has outstanding branding gained from years of exposure in the Southern California media markets. They offer their customers and loan originators outstanding support and a celebrated experience. Contact Harvey Grossberg at 949 276 8536
Covenant Mortgage and Covenant Insurance Services serve the State of CA and are based in Orange County CA 23101 Lake Center Drive, Lake Forest CA 92630.
Covenant Mortgage is a full service Mortgage Banker that offers FHA, VA, Reverse and Conventional Mortgages. Covenant is offering VA Mortgages for active or retired Veterans. Veterans can buy a home with no money down up to $962,000 (loan limits vary by county).
Super Jumbo Loans up to $3,000,000 at very attractive rates. Covenant advertises on several leading radio stations throughout CA and is endorsed by KFI 640AM's Bill Handel. CEO Dave Hardin can also be heard on the Mortgage Matters Radio Show. 800-589-6099
Covenant Insurance Services is a full service agency providing competitive rates on personal and commercial lines of insurance. To provide the best possible rates and protection, Covenant Insurance Services only writes business with "A" rated carriers. Covenant's insurance agents have over 30 years of combined experience. Customers will benefit from excellent service and the best policies available in the marketplace. 800-259-4247
###