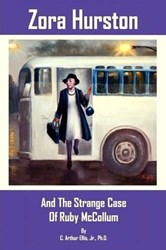 History is written by the victors.
Lutz, FL (PRWEB) January 05, 2011
Springtree Studio's announcement of plans for filming the Ruby McCollum story based on the account by William Bradford Huie and not the work of Zora Neale Hurston, who first covered the story and contributed her work to Huie, underscores the need for Black History Month.
Some people question why Black History Month is still hanging around. After all, the nation now has an African-American President, and African Americans who want to study their history have access to a flood of books and internet sites dedicated to the subject.
Leafing through American history books, though, the wisdom of Churchill's words still ring true, "History is written by the victors." With the announcement of a new movie from Springtree Studio about the life and murder trial of Ruby McCollum, based on the writing of William B. Huie, there is no clearer instance of how the work of African-Americans has been claimed by others.
To make this point clear, it is necessary to introduce Zora Neale Hurston, whose work on the Ruby McCollum story was set aside in favor of the work of William B. Huie.
Zora Neale Hurston graduated from Barnard College with a bachelor's degree in anthropology. While she was at Barnard, a part of her scholarly work was to conduct ethnographic research with noted anthropology student Margaret Mead.
After her graduation, one of Hurston's projects was to document the folk songs and stories of "Negroes" in the timber camps of North Florida. There, in the turpentine woods, she found white men forcing "colored" women into sexual servitude, even if they were married. The practice, called "paramour rights," continued long after the Civil War ended, and was one of the ways that white men maintained dominance over what they considered an inferior and subservient race of people.
Twenty years after completing her research in the timber camps, Hurston was contacted in the fall of 1952 by Sam Nunn, editor of the Pittsburgh Courier, the nationally published African-American newspaper, to cover a murder trial in Live Oak, Florida. There, in a small town near the timber camps that Hurston had lived in to carry out her research, the wife of a wealthy African-American gambling kingpin had allegedly shot and killed her white paramour after forcing her to have his children. The wealthy African-American woman was Ruby McCollum. Her paramour was Dr. C. Leroy Adams, a physician of messianic stature in Suwannee County, who had just been elected to the Florida state senate by a landslide.Both Hurston and Nunn agreed that Ruby McCollum's story might very well be a case of paramour rights, and that the murder trial might be a forum to expose this Jim Crowe practice to a national reading audience.
After accepting a freelance assignment to cover McCollum's trial, Hurston travelled to Live Oak to investigate the backstory of the murder. During the trial, she wrote a series of articles for the Courier, ending with a final article announcing Ruby McCollum's death sentence, handed down just before Christmas.
Early in 1953, following the trial, Hurston penned a serialized "Life Story of Ruby McCollum" for the Courier, which came to an abrupt halt when Hurston and the Courier had a falling out over her compensation for her special assignment. After that, the Courier filled in the missing column with a solicitation to its readers entitled "Ruby, Good or Bad?" and published the flood of incoming letters to the editor as a distraction for its subscribers.
Feeling both disappointed over the verdict in the trial and betrayed by the Courier, Hurston returned south to her home in Eau Gallie, Florida. Sometime afterwards, she took some comfort in the fact that McCollum's testimony in her own defense marked the first time that a woman of African-American descent was allowed to testify as to the paternity of her child by a white man. Hurston firmly believed that Ruby McCollum's testimony sounded the death toll of paramour rights in the Segregationist South.
Still, unemployed and financially destitute, Hurston felt helpless to follow McCollum's appeal of her death sentence to Florida's Supreme court. Hurston remembered Huie from when they both wrote articles for an avant-guard magazine, The American Mercury, for which he became the editor in 1950. Hurston pleaded with the man she respected to look into the case with an eye to taking up where she had left off. For quite a while, her pleas fell on deaf ears. After all, a man of Huie's stature found little of interest in what he considered the trial of a woman scorned, regardless of the racial mix of the love affair gone wrong.
As fate would have it, Huie had already planned a beach vacation to Florida with his first wife, Ruth. Making his way through Florida, Huie decided to drive through Live Oak to speak with the Honorable Hal W. Adams, the judge who had presided at the McCollum trial. Being a circuit judge, Adams was not in Live Oak at the time, so Huie had to drive south about 30 miles allong the two-lane stretch of Highway 51 to Mayo, Florida where he was told he could find the judge.
When Huie arrived at the jurist's office in the Mayo County courthouse, Judge Adams gave him a warm greeting, but the nature of the conversation grew tense as the famous journalist pressed the elderly man for permission to speak with Ruby McCollum, who now sat in the Suwannee County Jail in Live Oak awaiting her appeal to Florida's Supreme Court. Judge Adams demurred, stating that he was not going to allow reporters to "sensationalize" the trial for their own financial gain. Huie persisted. Judge Adams was adamant.
Being the man that an October 25, 1954 article in Time Magazine called "a glib, self-promoting free-lance writer who likes nothing better than to be in hot water," Huie sensed a dynamite opportunity to pursue his calling. Judge Adams was denying Ruby McCollum her First Amendment rights. For today's readers it might be hard to believe, but for most people in 1952—long before the Patriot Act was even a twinkle in a zealot's eye—freedom of speech for the accused, as well as freedom of the press, were considered right up there with the Ten Commandments.
To make a long story short, Huie retained an attorney to fight for Ruby McCollum's First Amendment rights to speak freely, as well as his right of freedom of the press to speak with her. This action earned him the attention of the Pittsburgh Courier and Ebony Magazine, and ended Hurston's involvement with the Ruby McCollum story.
Huie soon became known as the self-proclaimed champion of Ruby McCollum, the oppressed "colored" woman who was fighting for her life, even though Hurston had covered McCollum's murder trial and was the first to bring it to the attention of the nation. And, because of his brilliant self-promotion, Huie came down through history as the man who kept McCollum out of Florida's electric chair, even though her attorneys had crafted and filed what eventually became a successful appeal of her death sentence with Florida's Supreme Court long before Huie arrived at the scene.
The story of how Hurston, an African-American female, disappeared from history as the chronicler of the Ruby McCollum saga and how she was replaced by William Bradford Huie, a white male, plays itself out in 5 acts.
First Act: After Huie decided the Ruby McCollum's story rose to a level sufficient to merit his time, he contacted Hurston (now settled into her little rented cottage in Eau Gallie, Florida) and asked her for her notes on the trial. Hurston gladly obliged, toying with the idea of collaborating with Huie to write a book on the story. After sharing her work and in many ways collaborating with Huie on his book through a series of letters, Hurston corresponded with Huie on July 1, 1954, writing "…I am not sure that I can get up there to the trial unless you send me at least transportation." It is clear from this letter, and another that followed on July 28, that Hurston was most anxious to attend the trial that followed the Supreme Court's reversal of the first trial and death sentence for Ruby McCollum. But Huie never sent the transportation money—which was little more than pocket change to him—leaving Hurston unable to attend the trial. He did, however, use her work in his book, citing her contribution only in passing.
Second Act: Huie's First Amendment rights suit died with a whimper. Ruby McCollum was never allowed to speak with reporters. Instead, after a psychiatric examination to determine her fitness to stand a new trial, Ruby McCollum was determined to be insane and was immediately committed to the Florida State Mental Hospital in Chattahoochee.
Third Act: On his way to the Jacksonville airport just prior to McCollum's second trial, Huie went out of his way to stop in Lake City, Florida to speak with Dr. Fernay, the psychiatrist who had seen Ruby for the court, and, in his own words, told him he wanted to "tell him a thing or two" about Judge Adams and Dr. Adams (no relation). Dr. Fernay immediately went to Judge Adams and maintained that Huie had told him about illegal dealings between Judge Adams and Dr. Adams. The judge was furious, and issued a contempt of court charge against Huie for attempting to influence an expert witness in the trial.
Fourth Act: When Huie appeared before the Judge on his contempt of court charge, he refused to pay the fine, demanding instead to serve time in jail. Judge Adams, believing that Huie's demand was a thinly veiled publicity stunt, denied Huie's request and told him to get out of the courtroom and come back when he was ready to pay the fine. Huie then stormed out of the courtroom and walked directly across the street to the Western Auto store, where he bought a roll of duct tape. He then went to his car and taped the horn ring down to the steering wheel. On his third trip around the courthouse with his horn blazing, Sheriff Sim Howell arrested Huie—not for contempt of court—but for disturbing the peace. Thus ended Huie's Battle of Jericho.
Fifth Act: When Huie asserted that he spent thousands of dollars on the First Amendment rights and contempt of court cases, he failed to mention that the Courier appealed to its readers to help him financially, causing thousands of its readers to stuff dollar bills into envelopes and mail them to this crusader for Truth, Justice and the American Way. To date, there has never been an accounting for these cash contributions.
Clearly, the case of Ruby McCollum is an example of history being written by the victor. And, if this isn't enough, Huie's revisionist history is soon to be honored by the aspiring movie makers at Springtree Studios in Gainesville, Florida who are gearing up their first production with a script based on Huie's book.
During this upcoming Black History Month, Zora Hurston should be celebrated for fearlessly walking into the heart of darkness to sit in the segregated balcony of the courtroom during McCollum's murder trial. It was there, in full sight of KKK members, that she penned notes for the weekly Courier articles. Without her efforts, McCollum may very well have been lynched, and her story would never have been recorded for history.
And that is why we still need Black History Month.
Author's Note:
Thankfully, this movie was never made, since the principals had a disagreement and dissolved the production company.
More info:
====================================================
Dr. C. Arthur Ellis, Jr. , a native of Live Oak, Florida, is the author of Zora Hurston And The Strange Case Of Ruby McCollum, a historical novel written in the voice of Zora Hurston. He has also published a reconstructed and annotated version of the previously lost transcripts of the Ruby McCollum trial in State of Florida vs. Ruby McCollum, Defendant. This work is not in the public domain since it is not the actual original transcript. Also note that all images on this page, including headline of murder, are original and copyrighted (2003). Dr. Ellis now makes his home near Chattanooga, Tennessee.
# # #