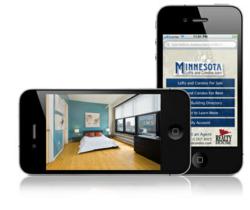 ...the app allows you to quickly identify the buildings that are nearby and tells you which have units for sale or rent.
Minneapolis, MN (Vocus/PRWEB) January 11, 2011
When people leave a Twins game at the new Target Field and walk out into the North Loop of Minneapolis, a certain electricity surrounds them. It's the atmosphere, but it's also the buildings, clubs and restaurants. Some people feel right at home. Some decide to make it home. They just need some help deciding where.
A new GPS-enabled iPhone® app from the Asbury Group of The Realty House simplifies the process of answering that question, making the Twin Cities loft and condo search convenient and easy. It's the only app in Minnesota that focuses exclusively on lofts, condos and townhomes.
"If you're walking through downtown Minneapolis, for example, the app allows you to quickly identify the buildings that are nearby and tells you which have units for sale or rent," said Andy Asbury, Lofts and Condos Specialist. "This free app offers a variety of current and historical information about each building and makes learning about them in real time a pretty simple scenario."
The app complements and taps into a comprehensive database of more than 2,500 condo, loft and townhome profiles on the http://www.MinnesotaLoftsandCondos.com website. When a user creates an account on the app, it automatically creates an account on the website as well. As a user browses developments and properties on their phone, they can mark those that they're interested in as a favorite, and then go back later and look at it on the website. If they want more information, both the app and the website are supported by a team of loft and condo specialists who can lead them through the rental or purchase process.
The new app also assuages one of the primary complaints about the mobile phone real estate search: That there are so many property icons on the screen it's hard to make sense of it all. If someone is looking for Minneapolis condos and narrows the map to the North Loop, for example, there may be 150 property icons on a typical app – meaning there are 150 properties for sale or rent in that area. When zoomed into the North Loop on our app, you would see far fewer icons – maybe 25 – because that's the actual number of buildings that contain those 150 properties. If a user is interested in learning more about what's available in a particular building, they can simply click on the icon and see the units that are for sale or rent and if a property really appeals to them it's just one more click to instantly request a private showing.
"Our team has a strong commitment to the lofts and condos market and will continue to leverage technology as we help those looking for lofts and condos make the most of their search," Asbury said. "Initial reviews of the app have been overwhelmingly positive," he added. MobileRealtyApps.com built out Asbury's vision for the app because as he put it, "they have a depth of experience building premium mobile apps for real estate brokers and were willing to produce a truly customized solution."
To reach the Asbury Group's lofts and condos specialists, log on to their web site or call 612-567-8925. The app is now available for download from the iTunes App Store.
###