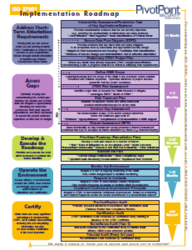 take the guesswork out the certification process
Hamilton, NJ (Vocus/PRWEB) January 05, 2011
Pivot Point Security is proud to announce that their ISO 27001 Roadmap has been refreshed for improved readability and simplicity.
John Verry, Principal Consultant at Pivot Point, and himself an ISO 27001 Certified Lead Auditor, is a self-described cheerleader for ISO 27001. "ISO 27001 is the simplest, most cost-effective, efficient way for companies to meet ever-changing information security regulations and business demands. We are seeing more and more clients moving in this direction – so we wanted to provide them with a clear, step-by-step route to take the guesswork out of the certification process."
Pivot Point Security's ISO 27001 Roadmap was first created over a year ago and has since become the foundation of their ISO 27001 practice. The road-map addresses frequent 27001 questions/concerns:

How long will it take?
How much will it cost?
How do I satisfy my "attestation" requirements while I pursue 27001?
The roadmap illustrates, in concrete terms, that ISO 27001 is fundamentally simple and manageable by virtually any organization. Getting to ISO 27001 certification is a process made up of things most people already know and are often already doing!
"ISO 27001 is fast becoming the "gold standard" for information security," says John Verry. "So many demands are placed on clients to meet often overlapping standards (SAS 70, Sarbanes-Oxley, HIPAA, PCI and PII compliance). ISO 27001 truly simplifies the process and makes it easy to maintain a strong, healthy security posture. We encourage anyone who has to meet third-party requirements to request a free consultation. We're happy to help people simplify the process and get on with business."
Is ISO 27001 in your future? 2011 may be the right time to find out!
About Pivot Point Security:
Continually evolving technology, business requirements, regulations, and threats make "being secure" and "proving you're compliant" increasingly complex. The only logical response: Simplify. Pivot Point Security makes it easier to prove that you are secure and compliant. Pivot Point Security knows how important compliance is – and how helpful ISO 27001 can be in proving that compliance. For more information visit Pivot Point Security at http://www.pivotpointsecurity.com
Contact:
Scott Kivowitz
Marketing Manager
Pivot Point Security
609-581-4600 ext. 321
http://www.pivotpointsecurity.com
###