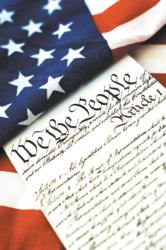 If citizens are going to hold elected leaders to the letter of the Constitution, they need to know what it says.
Saddle Brook, New Jersey (Vocus/PRWEB) January 01, 2011
The new Republican majority in the United States House of Representatives has promised to read the entire U.S. Constitution on January 6th, as a prelude to its getting to work on new legislation.
And what about the rest of Americans?
If citizens are going to hold elected leaders to the letter of the Constitution, they need to know what it says. Unfortunately, the Constitution was written with long, long sentences, many subordinate clauses, and seldom-heard legal terms. And most sources are in fine print.
Many citizens have long ago forgotten their 10th grade American civics class and the analysis of the Constitution. Or they may have slept through it at the time as one of the most dense and therefore, boring of topics. Or perhaps they never had such a course.
Twelve percent of the population of the United States is foreign born. This is another important segment of Americans who have no clear understanding of what the Constitution is. They've come here for the benefits of the Constitution, and studied enough to pass a citizenship test. But limited English kept them from getting a full view of the Constitution.
Elizabeth Claire's purpose in providing the Constitution in Simple English is to give all Americans a fresh starting point in reading the Constitution. It is written on a reading level suitable for eighth-grade students and for new speakers of English at a high-intermediate level. The Constitution in simple English does not in anyway "dumb down" the original document, which stands directly next to it. Claire's version contains a brief historical introduction and summary. Reading the Constitution "in translation" will help Americans appreciate the remarkable foundation of the U.S. government. This is a necessary first step in fulfilling civic duties.
Claire, who has a master's degree in Teaching English as a second language, and 40 years of experience, is the author of 26 texts and teacher resource books in her field, and is the founder and publisher of Easy English NEWS, a monthly newspaper for English language learners.
###