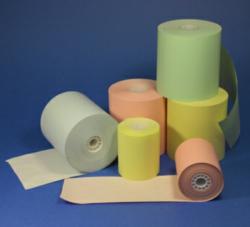 Businesses can make a big impact simply by choosing to print on colored paper rather than white.
Danvers, MA (Vocus/PRWEB) January 04, 2011
POS Supply Solutions, Inc. (POS Supply) offers colored receipt paper rolls as part of their stock receipt paper roll product line.
From retail stores to restaurants, businesses are always looking for new ways to sustain and grow a steady customer base and increase product awareness. POS Supply offers their customers color receipt paper rolls that enhance branding and customer communications. This creates the ability for businesses to use their receipts as promotional tools.
Memory retention studies show that humans are naturally drawn to color. When color is combined with the printed word, there is greater recall, recognition and retention. Different colors naturally evoke certain feelings among consumers. For example, yellow makes people feel optimistic and energetic, while pink is a youthful and lighthearted color. Green is a color associated with nature and ecology. Blue induces feelings of serenity, trust and dependability.
"Color receipt paper rolls are an inexpensive way to stand out from the competition," said POS Supply's President Stephen Enfield. "Businesses can make a big impact simply by choosing to print on colored paper rather than white."
Colored receipt paper rolls come in several popular sizes including 3 1/8" x 230' thermal, 2 ¼" x 85' thermal and 3" x 165' bond. POS Supply also sells custom colored rolls, pre-printed paper rolls, custom size rolls, various paper grades and security paper rolls. Orders start at as little as five cases.
About POS Supply Solutions
POS Supply Solutions provides point of sale and transaction supply solutions, serving a full spectrum of hospitality, retail, financial, gas station, medical, wireless and business transaction applications. Established in 1999, POS Supply Solutions' corporate facility is located in Danvers, MA with distribution warehouses strategically located across the United States. Over the past 11 years, POS Supply Solutions has worked with thousands of individuals and companies to ensure they receive the point of sale supplies needed for successful and efficient business operations.
Contact:
Alethea Copelas
Product Marketing Specialist
POS Supply Solutions
(978) 406-4230
acopelas(at)possupply(dot)com
http://www.possupply.com
###