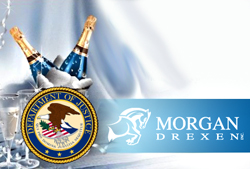 "The appointment of Morgan Drexen by the Trustee and the subsequent approval from the central district court will serve hundreds of consumers," says Ledda
Anaheim, CA (Vocus/PRWEB) January 03, 2011
"Anaheim based" company Morgan Drexen is starting the new year with a celebration, as they are recognized for their innovative support services by bankruptcy Trustee Jeffrey Golden.
Southern California Trustee and Super Lawyer Jeffrey Golden, has petitioned a Californian court to approve using the legal and automated support services of "Anaheim based" Morgan Drexen.
Jeffrey Katz, General Counsel at Morgan Drexen says, "Attorneys throughout America have realized the great efficiencies which Morgan Drexen's software and support provides. For a United States appointed Trustee to appreciate the innovative approach to our resourceful legal support services, is an accolade for Morgan Drexen."
General Bankruptcy Counsel for Jeffrey Golden, Tom Casey says, " The Trustee engaged in an in- depth investigation of the support services that Morgan Drexen provides. He concluded that using these support services would benefit the trustee. The trustee would not have untaken operating a Debt Settlement Program without using Morgan Drexen. They demonstrated an ability to operate very effectively in a complex industry."
Legal Support service and outsourcing is a familiar concept to many entrepreneurs. Companies throughout the world routinely outsource their payroll processing, accounting, distribution, and many other important functions. Many large companies turn to outsourcing to cut costs. In response, entire industries have evolved to serve companies' outsourcing needs.
Initially Morgan Drexen will be responsible for the documentation of over 500 new trustee clients. Morgan Drexen uses state of the art technology partnered with Legal Intake Specialists and paralegal support staff. Morgan Drexen services more than 50 attorneys nationwide.
Morgan Drexen CEO Walter Ledda says, "The appointment of Morgan Drexen by the Trustee and the subsequent approval from the central district court will serve hundreds of consumers. This is an accomplishment of magnitude that puts an end to any doubt regarding the benefits that Morgan Drexen provides the legal system."
Morgan Drexen prides itself on training its staff with more than 20 paralegals qualified in 2010. Ledda believes providing customer service of the highest quality has been the secret to Morgan Drexen's success.
Morgan Drexen President Steph Nagin says," Morgan Drexen is very proud of the novel approach it deploys to serve lawyers throughout the U.S. Our enterprise level software coupled with the Nation's largest staff of trained paraprofessionals in a single location is able to handle a huge volume of bankruptcy or near-bankrupt Debtor law firm clients. While it is a logical extension of our highly differentiated business model, the added credibility the Trustee enjoys is further proof that Morgan Drexen's safety, efficacy, and proven results for law firms is transportable."
###