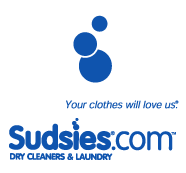 "There's no lip-service, just quality service here. We value our customers and we value the environment," says CEO Jason Loeb.
Miami Beach, FL (Vocus/PRWEB) January 04, 2011
Fashion looks and color palettes come and go, but one trend that is here to stay is green - environmentally, that is. South Floridians everywhere can help preserve wardrobe and planet with Sudsies, the area's leading full-service dry cleaners and member of the Green Cleaners Council. From detergent to hangers, Sudsies expansive eco-friendly cleaning operations aim to reduce, purify and recycle at every point in the process.
"There's no lip-service, just quality service here. We value our customers and we value the environment," says CEO Jason Loeb. "We're continually seeking ways to improve upon our cleaning methods to ensure that we're effectively reducing natural resources, yet maximizing the Sudsies product and experience."
Conservation begins with the complimentary pick-up service, as the company's fleet of vans effectively covers a range of routes, saving its individual customers time and fuel. Once at the Sudsies facility, laundry undergoes a wet cleaning procedure that incorporates only biodegradable detergents and conditioners. The EPA-sanctioned process is friendly for numerous fabrics and eliminates hazardous chemicals, toxic waste, water and soil contamination and air pollution. In addition, Sudsies' low-water usage equipment reduce water consumption, enabling the cleaners to need as little as one ounce of cleaning fluid per 15 garments and one gallon of water per 2,000 garments. Once the clothing is clean, items are placed on high-quality, recyclable hangers and wrapped in recyclable plastic covers before being delivered back to the customer.
Beyond cleaning procedures, all facility lighting and office equipment are Energy Star-rated and mercury-free, while motion detectors ensure the lights are out when no one is in the room. Recycled paper, glass and metal materials are distributed throughout the business. Sudsies' environmental efforts have earned it the designation as one of just two South Florida cleaners with a four-leaf membership level by the Green Cleaners Council, the prestigious panel in partnership with the National Cleaners Association that reviews and ranks dry cleaning companies' eco-efforts on a strict scale of tight criteria.
These efforts are part of the Sudsies service-driven trifecta of garment-friendly, customer friendly and environmental-friendly. Sudsies' well-trained professionals take pride in providing quality work and a personal touch, while its high-tech facility incorporates the most effective, yet gentle, cleaning methods. Free pick-up and delivery are included with all services, which include dry cleaning and laundry, restoration, alteration and an in-depth expertise in all types of fabrics, garments and home furnishings.
About Sudsies Dry Cleaners & Laundry
Based on Miami Beach, Sudsies is full-service dry cleaning company dedicated to clean clothes, clean service and a clean environment. An industry pioneer for South Florida home pick-up and delivery services, the Sudsies fleet of bubbly, blue and yellow vans offer prompt service to every nook and corner across the tri-county area, while a team of highly-trained specialists care for garments and customers with a smile. The vast range of services includes ecological dry cleaning and laundry processes, alterations and tailoring, clothing restoration, bridal gown storage or alteration and knowledge of specialty items such as couture garments. At Sudsies, customers look and feel their best, while sister company Rugsies Carpet & Drapery ensures customers live in the best with on-site home or office cleaning for carpets, drapes furniture and other home items. For more information about Sudsies, please call 1.888.898.SUDS (7837) or visit http://www.sudsies.com
# # #