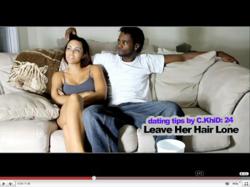 Girls told me what they like and don't like, and I learned how to apply that wisdom. After creating acting skits on Youtube, I decided to share wisdom
New York, NY (Vocus/PRWEB) January 11, 2011
Love, Dating, Pick Up Lines, and Relationship Advice has not been given by a Hip Hop artist since Will Smith was the Fresh Prince of Bel Air. However, rapper C.KhiD has created a YouTube buzz around his new "Dating Tips by C.KhiD" web series, which helps those with romantic interestss. Two minute skits that can be applied to reality situations, these dating tips videos are funny and valuable social advice. Dating tips, Pick Up Lines, love and Relationship advice has never been so easy pick up on and use.
"I personally never took many girls serious in my life. Girls hang with me because I've worked around glamour models since age 19. We'd be cool and they would talk to me because I don't judge. Girls told me what they like and don't like, and I learned how to apply that wisdom. After creating acting skits on Youtube, I decided to share wisdom through comedy and satirical skits," said C.KhiD.
Launching the first of the "Dating Tips by C.KhiD" series almost 1 year ago, various glamour models and entertainers have participated in skits. Web popular models Shantell Reisinger, Arianna Carson, and Erika Estrada have all joined in to be a part of the CKHID skits. Dating tips such as "Erections show appreciation for sexy" and "No First Date Fart" have each scored thousands of views and become user favorites.
"I am in talks of making an official website for all of these works but nothing is certain. As for now, I just enjoy creating these useful entertainment extensions. Sharing wisdom on Love, dating, pick up lines, and relationship advice is cool to me because I feel everyone deserves to conquer the mate of their choice," continued C.KhiD
Also Author of a How To Be a Player eBook, C.KhiD's literary works and YouTube videos are detailed yet easy to understand. Young, urban, and trendy he is not a well-known scholar but instead, just a renaissance-man who has lived life directly in the field. His knowledge is not from studies but from live experience and he expresses his wisdom in the simplest form.
Search "Dating Tips by C.KhiD" on YouTube or Google to find his YouTube videos. Subscribe to his YouTube channel http://www.YouTube.com/CKHID to keep up with his latest dating tips. Download C.KhID songs such as "Sour Sugar" and "Turn You On" to find love and relationship advice in his music.
C.KhiD is the founder of CKHID, Cannot Kill How I'm Dreaming, a digital age entertainment group. Also the founder of the first Hip Hop fashion website and "Kicks and Chicks" sneaker culture website, the eBooks world is his next target. Focusing lightly on Love, dating, pick up lines, and romance, his plans are to release new "Dating Tips by C.KhiD" skits in mid January.
###