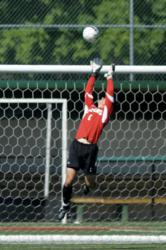 "This is incredible recognition for Zach and truly reflects on what an outstanding individual he is as an athlete and in all other aspects of his life."
Hoboken, NJ (Vocus/PRWEB) January 05, 2011
The National Collegiate Athletic Association (NCAA) announced that senior Zach Carr (Carmel, Ind.) of the Stevens Institute of Technology men's soccer team will be a recipient of the NCAA Today's Top VIII Award on January 14, 2011 at the NCAA Honors Celebration in San Antonio, Texas. The Today's Top VIII Award recognizes current student-athletes who will have completed their athletics eligibility for their success on the fields and courts, in the classroom, and in the community. Carr, who is scheduled to graduate in May of 2011, was one of the top goalkeepers in NCAA Division III soccer throughout his career on the field and currently has a 3.92 cumulative grade-point average as a Biomedical Engineering major at Stevens.
The eight total recipients across all three divisions are selected by the NCAA Honors Committee, which is composed of athletics administrators at member institutions and nationally distinguished citizens who are former student-athletes. The award is one of the most prestigious given out by the NCAA each year as past recipients include Tim Tebow (University of Florida), Eli Manning (University of Mississippi), Peyton Manning (University of Tennessee), Drew Brees (Purdue University), Rebecca Lobo (University of Connecticut), Cheryl Miller (University of Southern California), and Steve Young (Brigham Young University). The award dates back to 1973 when it was referred to as the NCAA Today's Top V Award.
"The NCAA Top VIII honor has never been bestowed on a Stevens student-athlete before," said Director of Athletics Russell Rogers (Branchburg, N.J.). "This is incredible recognition for Zach and truly reflects on what an outstanding individual he is as an athlete and in all other aspects of his life. I think it also says something very positive about Coach (Tim) O'Donohue, Zach's teammates, and our entire men's soccer program. I know I speak for many people when I say how proud we are of Zach Carr."
In 2010, Carr led the nation in save percentage (.927), was second in goals-against average (0.287), and as a team, the Ducks were No. 1 in team goals-against average (0.29), shutout percentage (.80), and save percentage (0.927). Stevens reached the second round of the NCAA Division III Men's Soccer Championship and finished the year with an overall record of 15-2-3. Carr ended the season allowing just six goals in 20 games and had 16 shutouts.
A four-time all-conference selection, he set a school-record and unofficial NCAA mark with 55 career shutouts, 16 coming in 2010. He notched 68 wins in goal against just nine losses and 12 draws as the Ducks' starting goalkeeper for the last four seasons. Named first team NSCAA All-East region three times in his career, the Carmel, Indiana native had a 6-2-4 all-time record in the NCAA Tournament, with one of the losses coming in penalty kicks to Messiah College in the 2008 National Championship game. Overall, in postseason contests, Stevens was 14-2-4 with Carr between the pipes. In addition, he had a goals-against average of .380 over the course of his career which is tied for third all-time in NCAA Division III.
Carr also had a streak from November 9, 2009 through October 13, 2010 in which he did not allow a single goal against. The run lasted for 1,333 minutes and is second in the history of NCAA men's soccer (all three divisions).
He was twice named a first-team National Soccer Coaches Association of America (NSCAA) All-American, the only Stevens goalkeeper to earn that honor in the program's history, and was also a two-time first-team ESPN The Magazine Academic All-American. As a senior, Carr was named the Division III Academic All-American of the Year, an honor that was also the first-ever in the history of Stevens Athletics. Carr was named to the Empire 8 Presidents' List four times and has been a member of the Dean's List at Stevens in all six of his previous semesters. In addition, he was on the Stevens President's List the last two years.
"I think I speak for everyone involved with the Stevens soccer program when I say how proud we are of Zach and his career here at Stevens," Head Men's Soccer Coach Tim O'Donohue (Hoboken, N.J.) said. "He has been the consummate student-athlete and has set a remarkable example to the younger players in the program by showing the dedication that is necessary to excel both in the classroom and on the playing field."
The seven other student-athletes that will be honored at the January 14 NCAA Honors Celebration at the NCAA Convention in San Antonio, Texas are Amy Backel of the University of Oklahoma (indoor/outdoor track & field), Casie Hanson of the University of North Dakota (ice hockey, softball), Dan Lauren of the University of Wisconsin-La Crosse (wrestling), Greg McElroy of the University of Alabama (football), Marcia Newby of the University of Georgia (gymnastics), Jessica Pixler of Seattle Pacific University (cross country, indoor/outdoor track & field), and Jeff Spear of Columbia University (fencing).
For more information on Stevens' athletics please visit http://www.StevensDucks.com
About Stevens Institute of Technology
Founded in 1870, Stevens Institute of Technology, The Innovation University™, lives at the intersection of industry, academics and research. The University's students, faculty and partners leverage their collective real-world experience and culture of innovation, research and entrepreneurship to confront global challenges in engineering, science, systems and technology management.
Based in Hoboken, N.J. and with a location in Washington, D.C., Stevens offers baccalaureate, master's, certificates and doctoral degrees in engineering, the sciences and management, in addition to baccalaureate degrees in business and liberal arts. Stevens has been recognized by both the US Department of Defense and the Department of Homeland Security as a National Center of Excellence in the areas of systems engineering and port security research. The University has a total enrollment of more than 2,350 undergraduate and 3,600 graduate students with almost 450 faculty. Stevens' graduate programs have attracted international participation from China, India, Southeast Asia, Europe and Latin America as well as strategic partnerships with industry leaders, governments and other universities around the world. Additional information may be obtained at http://www.stevens.edu and http://www.stevens.edu/news.
###