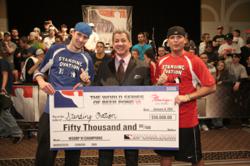 Las Vegas, NV (Vocus/PRWEB) January 05, 2011
BPONG.COM today announced that Dan Range from Columbia, Ill., and Nick Syrigos, from St. Charles, Mo., playing under team name "Standing Ovation," have earned the title of World Series of Beer Pong VI™ (WSOBP VI) champions. The $50,000 grand prize check was presented by internationally acclaimed announcer Bruce Buffer and the BPONG.COM founders during Tuesday night's finale at the Flamingo Hotel and Casino in Las Vegas. The World Series of Beer Pong is the largest, longest-running beer pong tournament in the world.
With the crowd chanting, "USA, USA!" team "Standing Ovation" took on "Unstoppable Since Inception," whose duo was undefeated going into the finals and included a player representing Canada. The finals match featured a best-of-three format, but team "Standing Ovation" came back from two early deficits to win the first two games. Mike "Pop" Popielarski from team "SmashingTime," who had won the WSOBP the past two years in a row, congratulated the duo by giving them the last cup, the balls from the winning game and a pitcher of beer.
25-year-old Range and Syrigos, 30, are each $25,000 richer after making it through 21 games and some seriously tough competition. The team has only been playing together for about six months, and Syrigos played his first game of beer pong just two short years ago. When asked what they plan to do with the winnings, Range said he wants to buy a new set of golf clubs and then an engagement ring for his longtime girlfriend. Syrigos plans to pay off student loans and also buy a ring for his girlfriend for a possible joint wedding.
"This year's event was bigger and better than we could have ever hoped, with a growing number of female and international teams, as well as a much larger and more diverse group of spectators than ever before," said Duncan Caroll, WSOBP co-founder. "We plan to use this year's success to springboard into 2011 with event, product and sponsorship growth. We also have plans to bring the sport of beer pong to the masses with enhanced technology and social marketing."
This year's event – the largest in WSOBP history – drew 507 teams from 48 U.S. states, six Canadian provinces and nine countries, as well as more than a thousand spectators. Some players were skilled winners of the more than 200 Satellite™ Tournaments; others simply paid the entry fee, and played for the fun and camaraderie. All had a chance at the prize money with a guaranteed 12 games over two days and the chance to advance to the finals on day three. In addition to the main competition, several side events were held at The Flamingo and O'Sheas Casino, including East vs. West, Singles, Ladies, International and Co-Ed tournaments, with prize money totaling $65,000.
The sport of beer pong is simple. Two teams stand at opposite ends on an 8-foot-long table, where ten 16-ounce cups, filled with roughly 2 ounces of beer or another liquid, are placed in a bowling-pin formation. Each team takes turns tossing beer pong balls (similar to table tennis balls) at their opponent's cup formation. If a ball goes into a cup, the cup is removed from the game. The first team to eliminate its entire opponent's cups wins.
At the WSOBP sporting event, four of the ten cups are filled with water to minimize alcohol consumption. Many of the 160 teams who advanced to the final day of WSOBP VI opted to drink water instead of beer to keep their edge. The WSOBP is the largest organized beer pong tournament in the nation, created by BPONG.COM. The company and its website is the center of the beer pong universe, providing a center for collaboration and discussion about the game of beer pong. For more information, visit http://www.bpong.com.
# # #