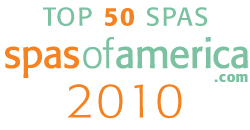 The Top 50 Spas of 2010 offers insight into what spa consumers around the world are viewing.
Santa Monica, California (Vocus/PRWEB) January 07, 2011
The spa travel website Spas of America today announced their annual ranking of the Top 50 Spas, based on consumer behavior on their website. "This year the list includes wine-tasting spas in Ontario and California, destination spas in Utah and the Midwest, and ocean spa experiences in Hawaii and British Columbia. The Top 50 Spas of 2010 offers insight into what spa consumers around the world are viewing," says Spas of America president Craig Oliver.
Topping the list for 2010 is 100 Fountain Spa at the Pillar and Post, located in the charming town of Niagara-on-the-Lake, Ontario. Only minutes from Niagara Falls, 100 Fountain Spa is a year-round destination offering a wide range of cultural, historical and recreational activities.
Second place goes to the Biggest Loser Resort at Fitness Ridge in Ivins, Utah. Set amidst the stunning red rocks of southwestern Utah, the Biggest Loser Resort is a "destination spa," offering an affordable, comprehensive health and fitness experience focusing on exercise, healthy nutrition and education.
Virginia's The Homestead placed third on the list. Situated in the scenic Allegheny Mountains and built in 1892, the Homestead Spa is one of America's most historic luxury spas, still fed by the original hot springs that have attracted travelers since the 1700s.
Fourth place went to Northern California's Wine & Roses, in picturesque Lodi Wine Country. A short drive from San Francisco or Sacramento, Wine & Roses offers guests a warm and inviting relaxation experience.
Rounding out the top five is the grand hotel affectionately known as the "Pink Palace of the Pacific," the Royal Hawaiian Hotel, Abhasa Spa. Set on 10 acres of prime Waikiki beachfront on the south shore of Oahu Island, the Royal Hawaiian is a popular beach spa escape.
The complete list of all 50 spas can be viewed at:
http://www.spasofamerica.com/lifestyle/wellness/top_50_spas_2010
Spas of America's Top 50 Spas of 2010 are ranked by unique page views generated by customers visiting the website throughout the year. Spas of America's audience is very targeted: 70% women; 80% United States/Canada; 25 to 65 years; $75k to $250k HHI; leisure and business travelers; and health, wellness & lifestyle oriented. In addition to the US and Canada, Spas of America draws spa travel consumers from Europe, Asia and South America. Over 750 spas are featured on the Spas of America website, and the Top 50 Spas of 2010 represents the top 7%.
The most popular searched regions in 2010 in the United States were California, New York, Arizona, Florida and Hawaii; and in Canada: British Columbia, Quebec, Ontario and Alberta. The most popular spa experiences were Desert, Destination, Beach, City and Mineral.
About Spas of America
Launched in 2005, Spas of America is the largest spa travel website, showcasing over 700 of the best resort, hotel and destination spas around the world. Spas of America supports the growth of Spa & Wellness travel by providing consumers with a beautiful, clean, easy-to-use online experience. The website empowers customers to search for spas by map, name, keyword, experience or geographic region. Find Spas of America online at http://www.spasofamerica.com, follow us on Twitter at http://twitter.com/spasofamerica and join us on Facebook at http://www.facebook.com/spasofamerica
For more information, please contact:
Craig Oliver
President
Spas of America
spasofamerica(at)gmail(dot)com
888.688.7727
http://www.spasofamerica.com
Spas of America's Top 50 Spas of 2010
100 Fountain Spa, Pillar and Post, Niagara-on-the-Lake, Ontario
Biggest Loser Resort at Fitness Ridge, Ivins, Utah
The Homestead, Hot Springs, Virginia
Wine & Roses, Lodi, California
Abhasa Spa, Royal Hawaiian Hotel, Waikiki, Hawaii
Grotto Spa, Tigh-Na-Mara Spa Resort, Parksville, British Columbia
Living Waters Spa, Desert Hot Springs, California
Red Mountain Spa, St. George, Utah
The Heartland Spa, Gilman, Illinois
Haven Spa, The Sidney Pier Hotel & Spa, Sidney, British Columbia
Secret Garden Spa, Prince of Wales, Niagara-on-the-Lake, Ontario
Turtle Cove Spa, Mountain Harbor Resort, Mount Ida, Arkansas
New Life Hiking Spa, Killington, Vermont
Aspira Spa, The Osthoff Resort, Elkhart Lake, Wisconsin
Millcroft Inn & Spa, Alton, Ontario
Two Bunch Palms Resort & Spa, Desert Hot Springs, California
La Quinta Resort & Club, La Quinta, California
Halele'a Spa, The St. Regis Princeville Resort, Kauai, Hawaii
Mohonk Mountain House, New Paltz, New York
The Boulders Resort & Golden Door Spa, Carefree, Arizona
Pala Casino Spa & Resort, Pala, California
Ancient Cedars Spa, Wickaninnish Inn, Tofino, British Columbia
Blackrock Oceanfront Resort & Spa, Ucluelet, British Columbia
Crystal Springs Resort, Vernon, New Jersey
Evensong Spa, Heidel House Resort, Green Lake, Wisconsin
Temple Gardens Mineral Spa, Moose Jaw, Saskatchewan
Scandinave Spa Blue Mountain, Collingwood, Ontario
Crystal Spa, Crystal Mountain Resort & Spa, Thompsonville, Michigan
Spa Terra, Meritage Resort at Napa, Napa, California
Miraj Hammam Spa, Vancouver, British Columbia
Rancho La Puerta, Tecate, Mexico
Balnea Spa, Bromont-sur-le-lac, Quebec
Spa Avania, Hyatt Regency Scottsdale Resort, Arizona
W Hoboken, Bliss Spa, Hoboken, New Jersey
Golden Door, Escondido, California
Bernardus Lodge, Carmel Valley, California
Arlington Resort Hotel & Spa, Hot Springs, Arkansas
Health Spa Napa Valley, Inn at Southbridge, St. Helena, California
W Chicago Lakeshore, Bliss Spa, Chicago, Illinois
Moana Lani Spa, Moana Surfrider, Westin Resort & Spa, Waikiki, Hawaii
Eau Spa at The Ritz-Carlton, Palm Beach, Florida
WildSpring Guest Habitat, Port Orford, Oregon
Amerispa, Hilton Lac-Leamy, Gatineau, Quebec
Amerispa, Westin Resort & Spa, Mont-Tremblant, Quebec
Las Balsas Relais & Chateaux, Gourmet Hotel & Spa, Argentina
ESPA, Peninsula Chicago, Illinois
Lorien Hotel & Spa, Alexandria, Virginia
Agave Spa, The Westin Kierland Resort, Scottsdale, Arizona
Mii amo, a Destination Spa at Enchantment Resort, Sedona, Arizona
Mandarin Oriental, New York City, New York
~ Google Analytics, January 1–December 31, 2010
# # #