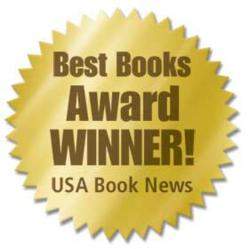 "Selling Change is an outstanding leadership handbook that all salespeople, managers, and executives should read." Jeff Keen, USA Book News
Bellevue, WA (Vocus/PRWEB) January 06, 2011
USA Book News announced that Selling Change, 101 Secrets for Growing Sales by Leading Change, by Brett Clay, won two awards in its "Best Books 2010" awards. Selling Change was named the winner of the Best Sales Book category and a finalist in the Best Management and Leadership category. The USA Book News awards add to a growing list of awards for the book, including the IPPY Gold Medal, naming it the best business book of 2010, and awards from Indie Excellence Awards and Next Generation Indie Book Awards.
Separately, Selling Power Magazine has selected Selling Change as one of the "Best Books to Help Your Team Succeed in 2011," which appeared in the December issue of Selling Power Magazine.
Jeff Keen, president and CEO of USA Book News said, "We look for the books that set the standards of excellence in the publishing industry. USA Book News award winners represent the best of the best.
Keen continued, "Selling Change, by Brett Clay, is the book that sets the standard of excellence in the sales category. This is not a typical sales or management book. First, Selling Change contains real thought leadership, providing a fresh, new perspective on sales and leadership. Secondly, the book's design breaks complex, abstract principles into an easy-to-read format that can be used as a handbook for easy reference. The result is a standard-setting book that should appeal equally to salespeople, managers, and executives."
Brett Clay, author of Selling Change, said, "I'm very passionate about the power of change to unlock opportunity and help people and organizations achieve their goals. Selling Change shows how to not just adapt to change, but how to make change happen to achieve your goals. I'm delighted that USA Book News recognized Selling Change with these two awards and hope readers are inspired to be change leaders, rather than change victims."
"'Selling Change', by Brett Clay, is a must-read for sales executives in 2011."
—Gerhard Gschwandtner, publisher of Selling Power magazine
"The most value is created by driving change. But now, it's not a luxury—it's survival. Read this book and thrive!"
—Jeffrey Hayzlett, former CMO of Eastman Kodak, change agent, and best-selling author of The Mirror Test
"This is the first POSITIVE book about change in a decade . . . at a time when we need it most! Buy it today, and implement it as fast as you can."
—Jeffrey Gitomer, bestselling author of The Little Red Book of Selling
"As a person on the buying side of the table, I can tell you that if you follow the principles in 'Selling Change', your customers are going to love you and you will be their preferred vendor."
—John Hughes, interim CIO and author of Haunting the CEO
Selling Change, 101 Secrets for Growing Sales by Leading Change', by Brett Clay, Non-fiction, Hardcover, $22.95, ISBN 978-0982295236, Available wherever books are sold. Volume purchasing available through 1-800-CEO-READ.
http://ChangeLeadershipGroup.com/BestSalesBooks2011
About the Author. Brett Clay, author of 'Selling Change', is the CEO of Change Leadership Group, LLC, a training and consulting firm that helps clients improve their sales, marketing, and leadership capabilities. A veteran of 20 years in international sales and marketing management, most recently with Microsoft Corporation, he is an award-winning author, award-winning marketer, trainer, speaker, consultant, and business leader. http://www.ChangeLeadershipGroup.com.
###