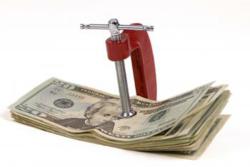 "Using the support services of Morgan Drexen, helps me keep down the cost which is in turn passed onto the consumer."
Anaheim,CA (Vocus/PRWEB) January 10, 2011
America's legal system says debt resolution is the answer in 2011. Bankruptcy filings peaked in 2010 at 13.8%, whilst debt resolution figures provided by Morgan Drexen, Inc. suggest 89% of consumers using debt resolution avoid bankruptcy.
According to the American Research Group American consumers spent on average, $638 on holiday spending in 2010, clearly showing a rising trend from 2009.
In December the federal-reserve released figures stated that Consumer credit increased in October 2010, which are the latest figures available; while revolving credit decreased at an annual rate of 8.5%.
For many Americans, the hangover this year isn't limited to a vision-blurring headache, churning stomach and severe dehydration. The average family spending is roughly four times the average weekly disposable income through the holiday season. The New Year hangover will be debt that keeps on rising.
While alcohol hangovers are unpleasant, fortunately there are proven cures. Where do Americans turn as their debt hangover lingers into 2011?
Bankruptcy figures showed an increase of 13.8% in 2010, however Morgan Drexen legal support services work with attorneys throughout America who are reducing debt dramatically.
Ruth Horst was over $40,000 in debt when she engaged with the Williamson Law Firm. With 11 children, building their dream house was it seemed, attainable sadly with mounting debt it was a dream that led to the nightmare of rising debt.
Ruth and her husband are farmers, struggling in an uncertain economy with 11 children wasn't easy. Ruth admits the dream house was a stretch on their budgets, in addition, "We also had $20,000 in hospital bills, that's what probably caused most of the debt. We have children medical emergencies happen," says Ruth.
Ruth thought like many consumers using an attorney to reduce debt would be a good idea. The Williamson Law Firm uses the legal support services and automation of Morgan Drexen, The "Anaheim-based" company was recently appointed by a Southern California trustee for its legal support and automated services.
Morgan Drexen provide state of the art technology in addition to legal support services to attorneys throughout the US. Lawrence Williamson of the Williamson Law Firm admits, "Using the support services of Morgan Drexen, helps me keep down the cost which is in turn passed onto the consumer."
After engaging with the Williamson Law Firm Ruth and her family are now debt free
"It's a lot nicer to not think of having all those high credit cards and all those high interest rates. That's the worst thing about them credit cards are those high interest rates if people don't pay them off every month."
Source- Raychel Harvey-Jones, Morgan Drexen, Inc.
# # #