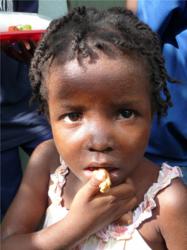 St. Paul, MN (Vocus/PRWEB) January 11, 2011
Feed My Starving Children (FMSC) and Compatible Technology International (CTI) are pleased to announce an alliance that will help organizations in Haiti become more self-sufficient.
FMSC distributes free food to nearly 200 long-term partner organizations in Haiti, including clinics, schools, orphanages, refugee camps, and feeding programs. Over the past year, CTI has helped several of these organizations work toward achieving food security apart from FMSC food packages. CTI has provided grain grinders and consulting to several FMSC partners, including Northwest Haiti Christian Mission and Haitian Health Foundation, and is working with several others to help with crop processing, food formulations, and water purification.
"We are pleased to announce this partnership," said Compatible Technology International Executive Director Roger Salway. "We are working together to help rebuild Haiti and empower Haitians. Our two organizations are playing a big role in this ongoing process."
The growing partnership between CTI and FMSC provides hope as Haiti observes the one-year anniversary of its devastating earthquake on January 12. In fact, a grain grinder provided nearly immediate assistance to one Haitian family displaced by the earthquake, as the following account illustrates:
When the earthquake hit Haiti in January, Madame Aliette Belizaire was among the millions whose lives were changed forever. In the aftermath of this horrific disaster, Madame Belizaire discovered that her daughter had been killed in the quake and that her husband was missing, leaving her with two grandchildren and eight remaining children of her own to look after. As days passed and the crisis continued, Madame Belizaire and her family made the heart-wrenching decision to leave Port-Au-Prince.
After traveling to the southwest city of Jeremie, Madame Belizaire and her family were provided a small home by the Haitian Health Foundation, where they began rebuilding their lives, growing corn and other crops to support their family. In May, Compatible Technology International (CTI) sent a grinder to the Belizaire family. Within days of receiving this simple device, the whole family was processing crops into enough food to eat as well as to sell in the local market. The family began using the grinder to make Akasan, a corn-based porridge meal, and peanut butter, which is important for relieving malnourishment in the children of the area who have kwashiorkor - a severe protein deficiency. The family will use the grinder to feed themselves and to prepare peanut butter which they will continue to sell at the market. All of the children will be able to attend school with the money generated from these sales.
Although it's been a year since the earthquake hit Port-Au-Prince, the extreme poverty that dictates the lives of 80% of the country continues, and the truth is, without addressing Haiti's chronic hunger and malnutrition, Haitians will continue to be vulnerable to the next earthquake, flood, or famine. CTI is partnering with organizations in Haiti to identify communities and families that can use simple, post harvest technologies to produce more nutritious food and generate incomes.
Founded in 1987, Feed My Starving Children has seen its fastest expansion since recommitment as a Christian-based non-profit in 2003. Since then, average year-to-year growth has been 76 percent—from three million meals in 2003 to 127 million expected in fiscal year 2010 ending in February. One packing site has expanded to six located in Minnesota, Illinois, and Arizona, along with a nationwide MobilePack program that has brought portable packing to 30 states. All food is funded by donors and packed by community volunteers. For more information, go to http://www.fmsc.org.
Compatible Technology International, a St. Paul, Minnesota nonprofit, was founded in 1981 by a group of food scientists, missionaries, and research engineers to provide solutions for processing food after harvest in the developing world. Rather than give temporary relief, CTI designs simple, culturally appropriate devices that help poor farmers process their crops more effectively. CTI's unique approach to sustainable development has proven to result in a better food yield, improved nutrition and increased family incomes. For more information about CTI, visit http://www.compatibletechnology.org.
###