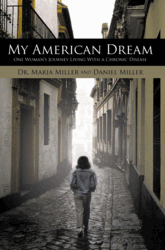 I have proven all the experts wrong who thought that I would be defined by my disease.
Orlando, FL (Vocus/PRWEB) January 12, 2011
With an economic recession and gloomy financial forecasts on our hands, some may wonder: Is the highly-sought 'American Dream' still achievable? For those who doubt, Dr. Maria Miller of My American Dream: One Woman's Journey Living with a Chronic Disease is living proof that the American Dream is still viable, no matter what obstacles one faces.
Born in a small farming village in Spain and left to be raised by her grandparents, Miller was confronted with the harsh realities of life at a young age. As a teenager, she was diagnosed with rheumatoid arthritis, a debilitating, chronic disease that affects joints. Miller was informed that her condition would lead to eventual paralysis, and so she prepared for a future resigned to a wheelchair.
However, against all odds, Miller persevered through severe pain to earn a medical degree, join her parents in Venezuela, marry and birth two children. "I have proven all the experts wrong who thought that I would be defined by my disease," says Miller.
The growing violence of her adopted homeland proved to be unsuitable for raising Miller's young children, so she turned her efforts towards immigrating to America--where her family could be safe and she could provide for her children. In America, Miller and her husband struggled to raise their children, learn a new language and pass medical certification exams, all while facing cultural barriers and Miller's painful arthritis.
As a young professional, Miller was ostracized by her peers for her accent, and her disease had taken a physical toll on her appearance. Through faith and the support of her family, Miller continued to reach for her dreams of owning her own practice. "Never let anyone dictate how your life is going to turn out," says Miller. "Don't ever be ashamed of who you are, because nobody in this world is more important than anyone else."
Miller is now a successful pediatrician and owner of Oviedo Pediatrics, living her dream in the United States. "I wrote this book to inspire people across racial and ethnic lines in these truly difficult times," says Miller. "You just have to have a little bit of faith, and be willing to put forth the effort."
About the Author: Dr. Maria Miller is an accomplished physician, mother and wife. As a woman, Dr. Miller feels she brings a unique perspective to the trials young immigrant families face. She has fought rheumatoid arthritis for the majority of her life and overcome countless obstacles, and credits her successes to faith and the support of family. Dr. Miller graduated from the Universidad de Santiago de Compostella in Spain with a medical degree. It was at the prompting of her son, Daniel Miller, that Dr. Miller decided to share her story. You can learn more at http://myamericandreamthebook.com.
###