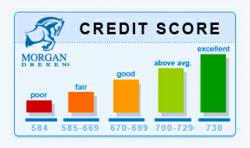 "My credit score went up as all my debts were paid. When debts are paid, it doesn't always come off your credit report."
Anaheim,CA (Vocus/PRWEB) January 17, 2011
The number of Americans filing for bankruptcy rose over 1.5 million last year, that's a 9% leap from 2009, the steepest increase since 2005. In addition to the slow housing market and high unemployment rates many Americans sought refuge in bankruptcy.
For many consumers across America bankruptcy is not an option, therefore many turn to debt resolution to rid themselves of debt.
Michael Ray was struggling with more than $13, 000 of debt when he decided enough was enough. Michael entered a debt resolution program with the Howard | Nassiri law firm. His credit score at the time was 545; just 24 months later he was debt free, and his credit score had risen too 642. In fact, just one month after completing the debt resolution program Michael was approved for a mortgage and moved into his new home in Long Beach, California.
The Howard | Nassiri Law Firm uses the support services of Morgan Drexen, Inc. They automate documentation and provide legal support services to attorneys across America. Recently, Morgan Drexen was recognized by Southern California Bankruptcy Trustee Jeffrey Golden, as he requested its legal support services.
While the attorneys supported by Morgan Drexen across the US don't claim in any way have the ability to repair credit nor are they selling this service, a positive impact on a client's credit can often be the product of reducing debt effectively.
Michael Ray admits that staying on top of the credit bureaus was a lesson he learned quickly. Michael says of the attorney based debt resolution program, "My credit score went up as all my debts were paid. When debts are paid, it doesn't always come off your credit report. Every six months I would check my report and dispute anything that was shown as paid off with the credit reporting agency."
Creditors are not as efficient as consumers would like them to be when it comes to informing credit-reporting agencies. "When the credit reporting agencies investigate disputed claims they realize they have been paid and therefore your score improves with in 30 days. My credit score improved as did my debt to income ratio."
It was a similar story for Donna Deluca from Natick, Massachusetts. She completed a debt resolution with program In September of 2010, soon after Donna also qualified for a mortgage. When she enrolled in April of 2008 her FICO score was 501 she was deep in credit card debt over $16,000. On completing the debt resolution program and becoming debt free her credit score jumped to 640. When asked how did her credit score improve so much, Donna said, " The program helped me increase my score, because everything got paid off."
Morgan Drexen CEO Walter Ledda says, "Every situation is different, the attorneys we support make absolutely no guarantee that the consumers credit score will increase. However, we are seeing an increasing number of people who are confirming that their scores have increased as they debt is reduced."
The attorneys supported by Morgan Drexen are not credit repair experts and therefore that impression should not be taken from this information.
Source- Raychel Harvey-Jones, Morgan Drexen, Inc.
# # #