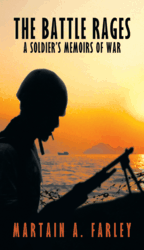 LAWERANCEVILLE, Ga. (Vocus/PRWEB) January 15, 2011
Over 43,000 service members have been diagnosed with Post Traumatic Stress Disorder (PTSD) in the last four years, according to the Health Surveillance Center. In his new memoir, The Battle Rages: A Soldier's Memoirs of War (published by Trafford Publishing), author Martain A. Farley shares his view from the trenches and how he has coped with his return from the Vietnam War.
Young Farley reports for basic training at Fort Jackson Army Base in Columbia, SC at the age of 17. In camp, he's stripped down and examined during a physical. Even from the beginning of his three tours of duty in Vietnam, he knows his life will never be the same again.
While stationed in the wilderness in the Republic of South Vietnam, at times he does not know if he will live or die. He witnesses horrific combat circumstances where fate, fortitude and an embedded will to survive determine if he will live or die. By the end of his final tour of duty, fear, anxiety and a sense of constant danger become an everyday reality.
After serving in Vietnam, Farley joins the Reserves and participates in several significant military operations. As a result of his constant stress and numerous threats to his life, Farley begins to suffer from Post Traumatic Stress Disorder.
Educating, enlightening and horrifyingly authentic, Farley shares his battle stories from both during and after the war. Join Farley in The Battle Rages: A Soldier's Memoirs of War as he describes his journey as a soldier, his emotional struggles throughout his life and his will to survive.
About the Author
Martain A. Farley served three tours of duty in Vietnam. He was an active reservist on call during the 1989 invasion of Panama and the Gulf wars. As a result of his experiences, he suffers from Post Traumatic Stress Disorder. After his military obligation Farley married a lovely young woman and graduated with a degree in Electrical Engineering using his G.I bill. He worked at the Charleston Naval Shipyard in Charleston, SC. After retiring, Farley wrote this book to help educate people about the condition. He humbly appreciates the loyalty of the family and close friends that have stood by him in the past with their compassion, acceptance and encouragement. Farley has also published A March in Time.
Trafford Publishing was the first company in the world to offer an "on-demand publishing service," and has led the independent publishing revolution since its establishment in 1995. For more information, visit http://www.trafford.com.
###