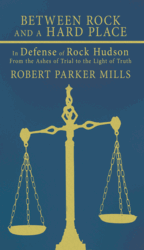 LOS ANGELES (Vocus/PRWEB) January 15, 2011
25 years ago, Marc Christian watched as his alleged partner, Hollywood star Rock Hudson, died from the then-newly discovered AIDS.
20 years ago, Attorney Robert Parker Mills watched as the jury awarded Marc Christian $14.5 million for purportedly having to live in a constant "fear of suffering a slow, agonizing death" from the AIDS Hudson had contracted and supposedly hadn't told him about.
Now, Mills is setting out to clear Hudson's name and restore his reputation in his new book, Between Rock and a Hard Place: In Defense of Rock Hudson. Using the medical facts, hard evidence, impeachment testimony and, in some instances, lack of evidence of Christian's claims the trial jury overlooked, Mills' argument is sound: if Hudson and Christian had, as reported, engaged in the high-risk intercourse in the eight months Christian was unaware of Hudson's contraction of the AIDS virus, he would have undoubtedly contracted the virus as well.
"Christian waited until Hudson died before filing his lawsuit, so Rock never had a chance to tell his side of the story," says Mills. "The media blindly accepted Christian's allegations without investigating anything. I never give up on a client if I think I'm right – especially if I have the medical evidence to back it up. Furthermore, Christian recently died, never being HIV positive or contracting AIDS. How could this be if Christian's story was true?"
Between Rock and a Hard Place uncovers the secrets and truths behind the trial of Marc Christian v. the Estate of Rock Hudson, letting the public act as jurors in the first "fear of AIDS" case that was never made fully public. It is the chance for the public to see the injustice served, for a silenced man to have his story heard and for a determined man to continue his fight in the battle of right and wrong.
Between Rock and a Hard Place: In Defense of Rock Hudson
By Robert Parker Mills
ISBN: 9781456700386
Paperback 6x9, retail price: $18.99
Hard cover 6x9, retail price: $25.99
Available at http://www.authorhouse.com, http://www.amazon.com and http://www.barnesandnoble.com.
About the author
Robert Parker Mills has been a practicing lawyer in the state of California for 40 years. He is admitted to practice in California, Missouri and Washington, D. C. as well as before the U. S. Surpreme Court and the Federal District Courts. His practice field ranged from product liability to medical defense to general liability cases. He has provided defense to a diverse client base, including Sean Penn, construction managers of the Los Angeles Metro Rail Red Line, E-coli meat suppliers and defense of trademark infringement actions brought by the New Kids on the Block. A member of PGA West Golf Club and the Jonathan Club, he currently resides in Manhattan Beach, Calif.
# # #