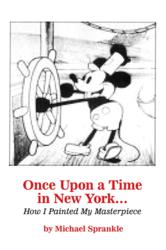 Phoenix, AZ (Vocus/PRWEB) January 15, 2011
Once Upon a Time in New York…How I Painted My Masterpiece, a new book by Michael Sprankle, has been released by RoseDog Books.
A novel in the flavor of Less Than Zero and Bright Lights, Big City. The book is about one man's disillusionment with the America he thought he knew.
Within the context of the novel are many political references as well as humor and satire. But the real context of the story centers on drug abuse, jewelry theft, fine wine theft, art theft, working for the mafia, and stealing from the mafia, as well as the author's employment in the exciting, fast-paced world of fashion photography and his eventual downfall.
It is the story about how, for a brief period of time he obeyed only the law… of gravity. He once believed that the answers to all of life's problems could be found in the bottom of a bottle. They are probably still there, but now they are printed in Chinese. It is a story in which he learns "A heart is not judged by how much you love; but how much you are loved by others."
Michael Sprankle is a graduate from Pennsylvania State University and currently lives in Phoenix, Arizona, with his wife, Galina, son, Anthony, and their two cats. They are avid art collectors, specifically oil paintings, and his wife also collects Murano glass and shoes … many, many pairs of shoes. This is the first book by the author, and although a long time in the making, some things get better with age … like a fine wine.
Having studied film at Penn State, Michael likes to use the names of movies as his chapter titles, as he feels this helps "set the scene" and development of each chapter. His second book titled: The Great American Novel will be available soon from Rosedog Books.
Once Upon a Time in New York…How I Painted My Masterpiece is a 146-page paperback with a retail price of $18.00. The ISBN is 978-1-4349-8218-6. It was published by RoseDog Books of Pittsburgh, Pennsylvania. For more information or to request a review copy, please visit our virtual pressroom at http://www.rosedog.com/pressroom or our online bookstore at http://www.rosedogbookstore.com.
###