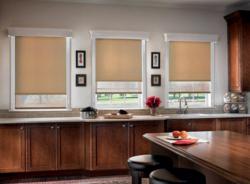 BlindSaver.com was pleased to contribute the Bali Blinds window treatment for the winning entrants updated kitchen, and to be a part of the renovation of their decor.
Denver, CO (Vocus/PRWEB) January 15, 2011
Who has the ugliest kitchen in country? Your neighbor? Your mother-in-law? You? DIY Network, the producers of HGTV and Food Network, wanted to know. Realizing there are many homeowners whose kitchens constitute a cry for help, they decided to sponsor the Worst Kitchen in America Contest, offering a $30,000 kitchen remodel for the brave winners who dared to bare their secret shame.
The competition is now over and the winners will be announced on January 18, 2011, on both the DIY Network website and in the January/February issue of Food Network Magazine. Both before and after shots of the worst kitchen will be shown. Visitors to the DIY Web site, the go-to destination for rip-up, knock-out home improvement television, will also find expert answers to their most pressing questions, as well as creative projects for do-it-yourself enthusiasts.
To enter the competition, contestants submitted photos and videos of their unsightly cooking spaces. Thousands of homeowners sent in their pleas for help, providing nightmarish visuals that would curdle anyone's sauce.
Online visitors were asked to rate the submissions with a system of stars:
1 Star - I'll Trade You
2 Stars - Needs An Update
3 Stars - Try a Sledgehammer
4 Stars - 80's Calling on Line 1
5 Stars - Worst Kitchen? YES
Various home decorating retailers have joined with DIY Network to come to the aid of the winner, by providing a kitchen full of tasteful and attractive new products. BlindSaver.com contributed a Bali Blinds window treatment for the winning entrants' updated kitchen. The Bali roller shades that will grace the winning kitchen are a unique blend of retro look and contemporary practicality, their stylish and functional nature blending perfectly with any decor.
The sheer fabric used in construction of these Bali Blinds, which are from their Westport Collection, allow plenty of natural light to filter in and brighten the kitchen. And the neutral color (Bone 3101) of the roller shades will coordinate with any color scheme the owners might choose for their new dream kitchen.
Bali roller shades also come in a variety of other styles, textures, colors, and degrees of opacity for filtering the degree of light desired in any room, even solid black out roller shades when complete privacy or darkness is the goal. Best of all, Blindsaver.com is currently offering roller shades by Bali Blinds at a 20% discount, but you better hurry; offer ends soon!
Blindsaver.com offers a wide array of cost saving custom window coverings, value that cannot be matched, as well as superior customer service and a 100% satisfaction guarantee with every purchase. Save even more and get exclusive coupons by signing up through the website.
# # #