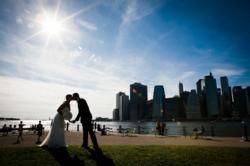 All couples have to do is submit a video telling us why their love for each other will stand the test of time.
New York, NY (Vocus/PRWEB) January 14, 2011
Dedicated to capturing weddings for couples who desire creative photography and extraordinary images, Weddings by Chris Leary Photography announces a Wedding Photography Scholarship contest beginning January 14, 2011. The grand prize is worth several thousand dollars of wedding photography by owner Chris Leary.
Says Leary, "We love working with all our couples, but the winners of our contests are always fun and creative, and it's an extra special experience to photograph their weddings. For the last two years, couples have written essays to enter the contest. This year, we're asking for video entries only and are looking forward to seeing the entries."
The deadline for Wedding Photography Scholarship entries is February 7, 2011, and Leary will choose the top 10 submissions. These videos will be posted on the Weddings by Chris Leary YouTube page for review and voting from February 8, 2011, until February 28, 2011. Leary will announce the video with the most votes on March 7, 2011.
To enter the contest, wedding couples submit an original video less than two minutes long, describing why they know their love for each other can stand the test of time. The couple must be the only ones appearing in the video, and it cannot be a slideshow or photographs. The video must mention Weddings by Chris Leary Photography and the website URL http://www.chrislearyweddings.com.
Leary notes, "This Wedding Photography Scholarship is a discount on our premium package, which includes a full day of photography with me and a second photographer, a preview to share on social media, unlimited final images, and a deluxe wedding book with 100 sides and two matching parent copies. As the scholarship is a discount, the couple will be required to pay part of their wedding package, and the details can be found on the entry page."
No purchase is necessary to enter or win the contest, which is open to legal residents of the 50 United States and the District of Columbia. All wedding dates are subject to Chris Leary's availability, and winning couples must sign a contract and remit a deposit to reserve the date.
About Weddings by Chris Leary Photography:
Specializing in wedding photography that is both visually expressive and contemporary, Weddings by Chris Leary Photography is located in New York, NY. The goal of Weddings by Chris Leary Photography is to capture a creative portrait that defines the essence of every wedding day and every couple. Chris Leary's photographs paint the couple's big day in a candid, documentary style of wedding photojournalism. For more information on the contest or to enter, visit http://www.chrislearyweddings.com/scholarship.
# # #