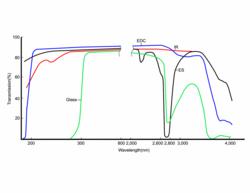 The cuvettes made with this ES Quartz are the best I've ever used
Farmingdale, NY (PRWEB) January 16, 2011
One very common question that NSG Precision Cells receives is, "What is your ES Quartz?" In short, this is a unique brand of quartz, superior to standard UV grade quartz in purity, usable range, and other characteristics. "ES" stands for ExtraSil Quartz, and is made in Japan, at NSG's ISO 9001 certified factory. The New York Tosoh office, NSG Precision Cells, is the main distribution hub for Extrasil (ES) products. Extrasil (ES) quartz has been available from NSG Precision Cells for many years. NSG Precision Cells is the only manufacturer of cuvettes and flow cells who also manufactures their own raw material.
Benefits of Manufacturing Extrasil (ES) Quartz In House
The ability to make their own quartz material gives NSG complete control over their product manufacturing from start to finish. As a result, they do not have to rely on any sub-contractors or suppliers for any of their manufacturing needs. From manufacturing the Extrasil ES Quartz to the finished flow cell, the project does not leave NSG's hands.
NSG's customers can enjoy peace of mind, knowing that an agreement with NSG Precision Cells doesn't involve another raw material supplier. As such, they will never have to worry about prices, long lead times, if a supplier goes out of business, etc.
Extrasil ES Optical Properties
One of the biggest benefits of using Extrasil ES Quartz is its superior optical properties. ES Quartz is a Suprasil®1 equivalent and some scientists say it gives even better results than Suprasil®1. Extrasil ES quartz excels in performance in the far UV and visible wavelength ranges. "The cuvettes made with this ES Quartz are the best I've ever used," says Dr. Dewey from Stanford University.
Since Extrasil ES Quartz is a synthetic fused silica quartz, the level of impurities are almost zero. Researchers can rest assured that any products made with NSG Precision Cell's Extrasil ES material will have highly optimized optical properties, and provide extraordinarily accurate and reproducible results.
Also, Extrasil ES quartz has superb resistance to high energy UV laser radiation, which means the material will not be easily damaged. For this reason many companies are using Extrasil ES quartz in their optics systems.
The transmission range for Extrasil ES quartz is from 170 - 2,500 nm. In this range Extrasil ES quartz transmits at over 80%. ES quartz can also be easily coated with an anti-reflection (AR) coating to enhance the transmission properties beyond this transmission range. Rather than having 80% transmission, which is already very high, you can get a 90% transmission or better with AR coating.
Extrasil Quartz Optical Properties Data
OH Content: 1300 ppm
Homogeneity: 5x10-6(φ600)
2x10-6(φ360)
Flourescence: None
Applications
Extrasil ES is being used for multiple applications in the optics and flow cytometry industries.
Extrasil ES quartz is very popular in the flow cytometry field, the HPLC industry, particle counters, particle sizing machines, the pharmaceutical industry, microfluidics, and many other optical applications. Given the excellent reputation and performance of the material, it is quickly becoming a favorite among its users.
For more information about Extrasil ES Quartz, please visit PrecisionCells.com for more information.
About NSG Precision Cells
NSG Precision Cells, Inc. was founded in 1958 and has been growing ever since. NSG Precision Cells, Inc. is a well established, highly regarded quartz manufacturer and we specialize in the manufacturing of quartz flowcells, quartz flow channel cuvettes, quartz microchips, quartz cuvettes, and other quartz optical products.