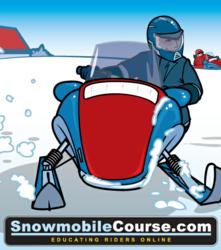 Now with the online snowmobile certification option, students will have a more interactive and dynamic learning experience.
Des Moines, IA (Vocus/PRWEB) January 15, 2011
The Iowa Department of Natural Resources now allows snowmobile safety education on the Internet, through http://www.SnowmobileCourse.com. This online course, developed by Fresh Air Educators, Inc. features a narrated and interactive study guide, as well as visual exam and quiz questions. Snowmobile riders ages 12 to 17 must have a safety certificate in order to ride a snowmobile on public property in Iowa.
Rhonda Fowler, Safety Education Coordinator for the DNR is excited about this new online course. "Students have had a 'home study' option for the snowmobile safety certification for years. Now with the online program option, these students will have a more interactive and dynamic experience. We've customized the course curriculum with Fresh Air Educators to ensure that the course meets our exact needs, and we think students will love the narrations and interactive elements."
The Iowa DNR was one of numerous state snowmobile education agencies who participated in developing the SnowmobileCourse.com content. The course also contains Iowa-specific information such as riding opportunities and challenges, as well as specific laws and regulations.
"We commend the Iowa DNR for moving their snowmobile safety education program to an online environment." Says Kerry Moher, V.P. of Business Development with Fresh Air Educators, Inc. "We already offer a hunter safety course and a boating license course online for Iowa, and we're thrilled to now provide students with the opportunity to obtain a snowmobile license online as well."
In order to ensure a greater level of student participation and retention, the online snowmobile safety course is made to cater to all learning styles. The course and exam questions contain hundreds of detailed illustrations, as well as narrated course content and interactive exercises.
"Every student, whether they're a visual, auditory, or kinaesthetic learner, will get something out of this course." Adds Moher, "The professionally narrated course, along with the interactive elements and the visual exam questions are unmatched. In the end, 98% of all our students would recommend our courses to friends or family."
The snowmobile safety course online has a one-time fee of $29.95, which includes the course, chapter quizzes and unlimited attempts at the final snowmobile safety certification exam for Iowa. The course is also available to anyone as a free study guide. For more information about Fresh Air Educators or online outdoor education, please visit SnowmobileCourse.com, BoaterExam.com, HunterExam.com or ATVCourse.com.
# # #