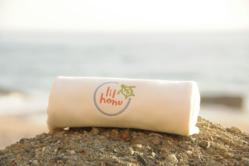 Diamond Bar, California (Vocus/PRWEB) January 18, 2011
New parents and experienced parents all know the value of a good burp cloth. It is an essential linen that a newborn should not be without, often personalized, usually partnered by more than two, and style preferred by the parent and caregiver.
We all know that babies need to be burped after every feeding. If not, they become irritable and agitated due to the painful discomfort induced by the accumulation of gas in their stomach. Various burping techniques are important to know, along with the anticipation of the inevitable small spit up to a more significant amount of reflux coming from the infant. The burp cloth is an essential accessory for the burping process, covering the shoulder of the parent and caregiver as a protective, expansive and absorbent barrier, as well as serving as a soft cloth against the infant's face that can be used as a washcloth.
Infants may eat up to 12 times daily. Lil Honu, Green Basics for Tots, recommends a supply of 10 or more burp cloths. It may seem a lot, but many parents understand, or will eventually understand through experience, that a stash of burp cloths are definitely needed for every aspect of their baby's lifestyle. Once a burp cloth is used, another is immediately needed to replace the soiled one that gets tossed into the laundry. It is a versatile accessory not only for feeding times, but also for play times, nap times, tummy times and the seemingly endless drool times. Moreover, burp cloths need not to be the standard pre-manufactured burp cloths seen in the marketplace. Receiving blankets, cloth diapers and terry towels have been effective for many families as burp cloths since they also serve as a stroller awning, a play mat, a travel blanket, a discreet nursing cover and a bib.
Lil Honu, Green Basics for Tots, recommends burp cloths made of organic cotton fabric, free of harmful toxins. These harmful toxins, formaldehyde and compounds found in pesticides and fertilizers are found in the growth and process of conventional cotton fabrics, shown to be easily absorbed when in contact with the skin and which can affect the body's organs and tissues. Topically, these toxins are especially harmful and inflammatory to our baby's delicate skin, especially for babies that are prone to dermatitis and eczema. Use of organic cotton burp cloths are safe, pure and natural, with no harmful toxins absorbed into baby's skin. In addition, because organic cotton fabrics are grown and processed without toxic chemicals they are softer and more absorbent than conventional cotton fabrics. Organic cotton fabrics are also environment friendly because organic cotton production systems replenish and maintain soil fertility, decrease the use of toxic and persistent pesticides and fertilizers, and build biologically diverse agriculture.
Lil Honu's mission is to provide luxurious organic and eco-friendly baby essentials that celebrate the simple and joyful innocence of these little souls in our world, and preserve the integrity of our environment and personal well-being.
Please visit Lil Honu.
Current promotions:
Everyday Free Shipping on all orders $75 or more. Enter coupon code SHIP75. No expiration date.
©Lil Honu, Inc. 2010. All rights reserved worldwide.
Lil Honu ® is a registered trademark of Lil Honu, Inc. 2010.
###