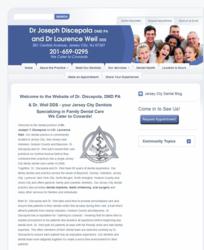 We are committed to helping patients achieve the smile they have always wanted...
Jersey City, NJ (Vocus/PRWEB) January 20, 2011
Dr. Joseph Discepola DMD PA and Dr. Laurence Weil DDS have been serving Jersey City's dental needs together since they combined their two Jersey City practices in 2006. The two dentists have recently announced the launch of a new website for their Jersey City dental practice at JerseyCityDentistsNJ.com, which contains detailed information about the practice as well as general information about dental care.
The main purpose of the newly-launched practice website is to educate new and current patients about the dental practice and provide contact information, a map, and directions. The website contains detailed biographies and pictures for the dentists along with a comprehensive list of services and procedures offered. For dental patients who are researching cosmetic dentists in Jersey City, the dentists have included a photo gallery on their website which displays before and after pictures of smiles from patients that have received the dentist's services, including dental patients with veneers, dental bridges, smile makeovers, full mouth reconstructions, dental implants, and several other cosmetic dental procedures. To help educate patients on how to promote good dental health, the dentists have included a page with tips about proper oral care.
The new website also includes several interactive and educational features. The Jersey City Dental Blog educates the public about current dental health news and topics, and allows visitors to the website to leave comments. Current clients are encouraged to read and post reviews or testimonials about the dental practice through the Share Your Experience page. The request appointment feature allows visitors to request an appointment online from the convenience of their computer if they would rather not call the practice directly.
"We are excited to announce the launch of our new practice website which marks our first presence on the World Wide Web. We believe the website will help our practice connect with new patients as well as facilitate better communication with our current patients. We are thrilled to be able to include helpful features such as the before and after photo gallery as well as the ability for patients to request an appointment online," states Jersey City Dentist Dr. Discepola.
The practice offers a full range of general and family dentistry with services including preventative maintenance as well as restorative or cosmetic dentistry. Preventative care includes teeth cleanings and check-ups, while cosmetic dental work includes teeth whitening, dental bridges or implants, veneers, and full mouth reconstruction. The dental practice is also equipped to perform oral surgery and is therefore able to provide most dental services for families and individuals.
According to Dr. Discepola, "We realize that going to the dentist can be stressful, which is why we take pride in providing professional, friendly service in a relaxing atmosphere. We are committed to helping patients achieve the smile they have always wanted and we strive to provide pain-free procedures to ensure the personal comfort of each patient. In fact, our company slogan is, 'We Cater to Cowards!'"
Dental patients in Jersey City or the surrounding areas of Bayonne, Carney, Hoboken, Lynhurst, New York City, North Bergen, North Arlington, Hudson County and Union City are encouraged to visit the new dental website at http://JerseyCityDentistNJ.com to get more information about this Jersey City dental practice.
About the business:
Both Dr. Discepola and Dr. Weil are certified in IMTEC placements, or mini-implants, and are members of the American Dental Association, Hudson County Dental Society, and the American Endodontic Society. Their dental practice is located on 281 Central Avenue in Jersey City, New Jersey, near Hoboken, Hudson County and Bayonne.
# # #