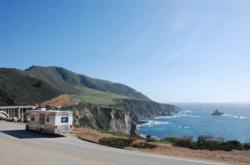 "Road Trips are for Lovers. There's something inspiring about 'Just Us,' out to explore the world." - Ken Schork, CEO, El Monte RV
Los Angeles (Vocus/PRWEB) January 18, 2011
Valentine's Day is quickly approaching and El Monte RV is celebrating a long history of helping couples create romantic road trips by offering to give Valentine's Day free as a fourth RV rental night to customers who rent for three nights.
Couples from around the world have celebrated honeymoons, anniversaries, Valentine's Day weekends, and many other romantic occasions on road trips in motorhomes rented from El Monte RV.
"We recently had a young couple in love come over from Germany and rent for 10 days. At the end of their trip they were so inspired they went to Las Vegas and got married!" said Ammar Alghafari, general manager of El Monte RV's Los Angeles location. "Of course there is no way to predict what will happen on a road trip. But couples from all over the world come to rent our motor homes for romantic road trips."
"Road Trips are for Lovers," said Ken Schork, CEO of El Monte RV. "Some people spend months preparing for these beautiful trips. Others do them on the spur of the moment. They plan their moonlight walks on the beaches, sitting by the campfire, candlelit dinners in quiet places. A motorhome is a chance for two people to get away and be alone surrounded by beauty. There's something inspiring about 'Just Us,' out to explore the world."
There are many ways to prepare for a romantic RV road trip adventure. Part of the fun of road trips is the planning. The most important thing to remember is to include your significant other in this. Get together and imagine all the places you can go and things you can see and do together. Don't over plan. The purpose of this trip is romance. Below is a list of six things you can do to get started planning your "Valentine's Weekend RV Road Trip for Lovers":
1. Keep it short and sweet. Find a couple of romantic places nearby that you both enjoy. Maybe you like wineries or romantic outdoor settings? Do you both love the beach? Just remember not to plan too much. This is not a military expedition.
2. Create a soundtrack for your romantic weekend. Do the two of you have a song? Do you have favorite bands or music from those romantic moments in your past? Create a playlist of all your music and bring it along to listen to while you are driving or for slow dancing in the motorhome or around the campfire. This will not only bring back those great romantic memories, but it will also stimulate some great conversation.
3. Don't forget the special things that you might need on your trip. Some couples want to bring a bottle of champagne to share by the campfire. Others might want to bring extra blankets to use while they lay under the stars together at night. Candles, flowers, and other items can help set the mood.
4. Consider bringing essentials to help you remember the trip. You will at least want to bring a camera or video camera, and maybe a tripod.
5. The person you are taking with you is the reason for this trip. Before you go the two of you should each think about reasons why you want to spend time together exploring. A great way to show your partner you thought about them would be to bring a few small gifts to surprise each other with along the way. Does your partner like chocolate? Maybe they love a certain cologne or perfume? Is there something special you could give them that would let them know you were thinking about this trip with them?
6. Mementos are a good way to remember a great trip. As you travel along don't forget to pick up little items that will help you remember significant events and destinations you experienced. Plan to look for these special items on your way.
"We're always delighted to find out that couples are renting our motorhomes for honeymoons, anniversary trips, and romantic getaways," said Joe Laing, Director of Marketing for El Monte RV. "We believe that RV rentals offer couples a unique opportunity to explore the wonders and beauty the U.S. has to offer and still keep the closeness and privacy that they want to enjoy while traveling together."
El Monte RV hopes to encourage more couples to experience the joys and adventures of romantic RV road trips. With links to road trip destinations, comprehensive trip preparation services and full-service RV rentals, the RV rental and sales firm provides a single point of planning for couples preparing for romantic RV getaways.
About El Monte RV
Headquartered in Los Angeles, El Monte RV is one of America's leading motorhome and RV rental and sales companies, catering to both international and domestic travelers. The company has experienced rapid growth throughout the United States, thanks to its reputation for exceptional customer service. El Monte RV is the only nationwide motorhome rental company to offer the larger Class A luxury vehicles for rent. For more information about El Monte RV, contact 800-337-2141 or visit our website El Monte RV Rentals.
# # #