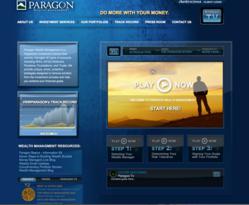 "It is not a good sign when an investment advisor has full control of your assets," said Dave Young, President of Paragon. "If they do, they can withdraw your money, make up statements, etc."
Provo, UT (Vocus/PRWEB) January 18, 2011
Paragon Wealth Management's President, Dave Young, explained how investors can avoid financial scams on Paragon TV today with Paragon's guest host, Randall Paul.
Paul opened Paragon TV's Wealth Management Show by asking Young how Paragon's clients know they aren't being scammed by Paragon.
Young gave the example of Bernie Madoff to illustrate his point. He said once you understand how that scam worked, you will be a better investor.
"In the Bernie Madoff situation, the investment advisory side and the brokerage side of the business were both owned by Bernie Madoff," said Young. "They had full control of the investors' assets. It is not a good sign when an investment advisor has full control of your assets. If they have full control, they can withdraw your money, make up statements, etc. It is important to have the custodian of your accounts be completely independent from your advisor."
Young said all of Paragon's accounts are custodied at Charles Schwab. Accounts are held in each client's name, and Paragon directs the investments within the accounts. Paragon and Charles Schwab are completely independent unrelated entities. Charles Schwab is liable for any theft or fraudulent illegal acts that may affect the clients' accounts. However, they are not liable for market fluctuations or bad investments.
Paul asked Young if he could get his money at any time if he opened an account at Charles Schwab.
"Yes, it's your account, and you can go to Charles Schwab at any time and get your money," said Young. "It's not like an annuity or something where you are stuck with surrender fees."
Paul followed up by asking Young if there are any scams that are going on today that investors should know about.
"There are a whole litany of scams," said Young. "One thing you can to do avoid some of them is to never write a check directly to an individual advisor or a business. If you do this, you are setting yourself up for a scam. If anyone asks for a check written directly to them, it's a red flag."
About Paragon Wealth Management
Paragon Wealth Management is a wealth management firm that actively manages all types of traditional and retirement accounts such as IRA and 401(K) rollovers, and pensions and trusts. Paragon is a registered investment advisor and has fiduciary responsibility. Paragon received the Best of State Award in Financial Services in 2008, was listed on Wealth Manager Magazine's Top Wealth Managers List in the U.S. in 2008, received the Small Business of the Year Award in 2008, and was listed on WealthManagerWeb's Top Wealth Manager's list in 2010. Call 800-748-4451 for more information.
Paragon cannot guarantee the accuracy of information from other sources. Opinions are as of the dates indicated only. This report is not a solicitation for any security. Past performance is not a guarantee of future results. Investments in securities involve the risk of loss. Do not rely upon this information to predict future investment performance or market conditions. This information is not a substitute for consultation with a competent financial, legal, or tax advisor and should only be used in conjunction with his/her advice.
###