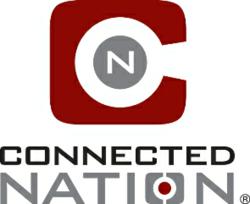 Frankfort, KY (Vocus/PRWEB) January 18, 2011
Connected Nation, a leading national nonprofit technology services organization, has been selected as one of the best places to work in Kentucky for 2011. The honor was announced today by the Kentucky Society for Human Resource Management State Council, the Kentucky Chamber of Commerce, and Best Companies Group.
Connected Nation, with a program footprint that spans more than 30 states and territories from Alaska to Puerto Rico, is currently managing broadband expansion programs in more than 13 states and territories across the nation. With its core operations office based in Bowling Green, Kentucky, Connected Nation was named one of the "Top 26 Best Places to Work in Kentucky" in the small/medium-sized employer category (those employing 25-249 U.S. employees).
"At Connected Nation we believe strongly that the talent and well-being of our team combined with a corporate culture that fosters creativity and freedom to solve challenges makes for a powerful recipe for serving our partners, clients, and stakeholders," said Connected Nation CEO Brian Mefford.
"This is a tremendous honor that underscores our goal to continuously raise that standard of excellence to remain among the best places to work. Connected Nation's ability to attract and retain great people is paramount to our ultimate commitment to serving the public good," Mefford said.
Connected Nation has employees across the country working with state and local stakeholders to create economic development opportunities through technology expansion. The award is based in part from surveys of the Connected Nation employees based in Kentucky.
"We believe that offering an enriching work environment is a key part of our mission. We truly value our employees and strive to ensure that we have a culture that conveys our commitment to them," said Tracie Rotermann, Connected Nation's human resources manager.
The Best Places to Work statewide survey and awards program was designed to identify, recognize, and honor the best places of employment in Kentucky, benefiting the state's economy, its workforce, and businesses. The Best Places to Work in Kentucky 2011 list is made up of 65 companies.
To be considered for participation, companies had to fulfill the following eligibility requirements:

Have at least 25 employees working in Kentucky;
Be a for-profit or not-for-profit business or government entity;
Be a publicly or privately held business;
Have a facility in the state of Kentucky; and
Must be in business a minimum of 1 year.
Companies from across the state entered the two-part process to determine the Best Places to Work in Kentucky. The first part consisted of evaluating each nominated company's workplace policies, practices, and demographics. This part of the process was worth approximately 25% of the total evaluation. The second part consisted of an employee survey to measure the employee experience. This part of the process was worth approximately 75% of the total evaluation. The combined scores determined the top companies and the final ranking. Best Companies Group managed the overall registration and survey process in Kentucky and also analyzed the data and used its expertise to determine the final rankings.
Connected Nation will be honored along with the other winners at the Best Places to Work in Kentucky 7th Annual Awards Dinner on Wednesday, April 20, 2011, at the Lexington Convention Center, where the final rankings will be announced.
About Connected Nation: Connected Nation is a national nonprofit 501(c)(3) organization that expands access to and use of broadband Internet and the related technologies that are enabled when individuals and communities have the opportunity and desire to connect. Connected Nation effectively raises the awareness of the value of broadband and related technologies by developing coalitions of influencers and enablers for improving technology availability and use. Connected Nation works with consumers, community leaders, states, technology providers and foundations, including the Bill & Melinda Gates Foundation, to develop and implement technology expansion programs with core competencies centered around a mission to improve digital inclusion for people and places previously underserved or overlooked. http://www.connectednation.org
For more information on the Best Places to Work in Kentucky program, visit http://BestPlacesToWorkKY.com.
###