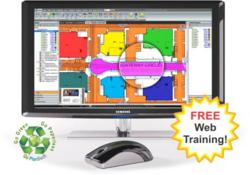 "Together, Planswift and Prime6400 deliver one of the most powerful estimating takeoff partnership alliances,"
Pittsburgh, Pennsylvania (Vocus/PRWEB) January 20, 2011
PlanSwift, the easy-to-use construction takeoff software program, has partnered with Prime Estimating Software company, the developer of Prime6400, an estimating tool specifically designed for the AWI architectural woodwork, millwork and casework industry. The partnership offers an integrated solution using both PlanSwift and Prime6400 programs to seamlessly interact.
"Together, Planswift and Prime6400 deliver one of the most powerful estimating takeoff partnership alliances," says Prime Estimating Software President, Doug Baxter.
"For example, the industry standard library with parametric pricing is easily generated with quick and accurate estimating methods just by clicking a mouse. No extra plug-ins, no export files or add-ons are required for these applications to talk directly to each other. Special or custom work can be accomplished just as easy."
The Prime6400 v2.2 release will feature a digital transfer to PlanSwift v9.0 to select required quantity parameters such as length, depth, height, UOM and color code and return the information to Prime6400. Simultaneously, a Planswift takeoff is updated and maintained for use in the Planswift Library tab.
Baxter says, "With this relationship, we hope to set the pace for estimators to experience high levels of speed, accuracy, efficiency and above all, consistent results. By using both tools, our clients will be able to bid more, manage more and drive their profitability."
If you would like more information about the PlanSwift and Prime6400's integrated benefits, contact Matthew Miller at (888) 752-6794 ext. 4 or email marketing(at)planswift(dot)com.
About Prime6400
Prime Estimating Software & Services, LLC is dedicated to sharing its experience and knowledge in the woodworking and construction industry. Incorporating the latest plant and field technology methods into trade specific customized software, our ability to share fast, efficient and accurate bid information will speak for it's self. Whether you utilize our software with your personnel or we perform the estimating service on our software. For more information please visit http://www.prime6400.com or contact sales(at)prime6400(dot)com or (239) 213-1237.
About PlanSwift
PlanSwift, a subsidiary of Tech Unlimited, Inc., is one of the nation's fastest growing developers and distributors of digital estimating and takeoff software specifically designed for, but not limited to, the construction industry. For eight years, PlanSwift has provided cutting edge tools utilized by contractors and estimators to easily and efficiently perform material takeoffs and estimate material quantities. More than 8,000+ industry professionals in over ten countries use PlanSwift to help them complete more precise and accurate bids every day. For more information about PlanSwift, please visit the company's website at http://www.planswift.com.
###