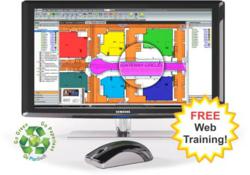 "The reprographics industry is changing and we're excited to offer our part in its growth."
Pittsburgh, Pennsylvania (Vocus/PRWEB) January 20, 2011
PlanSwift, the easy-to-use construction takeoff software program, has completed their latest industry software integration with Reprographic Arts. Reprographic Arts customers now have access to PlanSwift digital takeoff solutions within their planroom and can seamlessly transfer electronic construction documents directly into PlanSwift with just a couple clicks, enabling members to perform electronic takeoffs and estimating activities.
Sean Bernat, Partner Recruitment Manager at PlanSwift said, "PlanSwift is pleased to announce this new alliance with Reprographic Arts, which comes at the request of many customers who have asked for help to streamline the document distribution, bidding and estimating process into one centralized location."
PlanSwift services are currently available in all Reprographic Arts planrooms and users will be able to take advantage of takeoff and estimating tools. Free web training is available on the PlanSwift website.
Reprographic Arts has also recently released an Annual Membership Program as a way for planroom users to take advantage of PlanSwift services as well as cost-effective ways to find available work, gather necessary construction documents, and easily begin work through the process of creating takeoffs and estimates enabling the creation of bids. The membership program provides Reprographic Arts customers with free, unlimited file downloads from their planroom and substantial discounts to members for traditional reprographic services.
Bernat said, "The reprographics industry is changing and we're excited to offer our part in its growth."
If you would like more information about the PlanSwift and Reprographic Arts integrated benefits, contact Matthew Miller at (888) 752-6794 ext. 4 or email marketing(at)planswift(dot)com.
About Reprographic Arts
Reprographic Arts has been servicing the Architect, Engineering, and Construction Market since 1970. Our commitment to technology and experienced staff is well known for our ability to handle large bid set printing and distribution projects under the tightest deadlines. Products include wide-format printing, bid set distribution, specification manual printing and full color wide-format graphics. For more information on setting up a managed planroom, contact kbrown@raplanroom.com or call (219) 872-9111 or visit http://www.raplanroom.com.
About PlanSwift
PlanSwift, a subsidiary of Tech Unlimited, Inc., is one of the nation's fastest growing developers and distributors of digital estimating and takeoff software specifically designed for, but not limited to, the construction industry. For eight years, PlanSwift has provided cutting edge tools utilized by contractors and estimators to easily and efficiently perform material takeoffs and estimate material quantities. More than 8,000+ industry professionals in over ten countries use PlanSwift to help them complete more precise and accurate bids every day. For more information about PlanSwift, please visit the company's website at http://www.planswift.com.
# # #