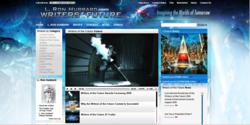 Hollywood, CA (Vocus/PRWEB) January 20, 2011
The 4th Quarter winners of the 27th year of the L. Ron Hubbard Writers of the Future Contest were announced today. "The finalist stories were exceptionally good this quarter", contest coordinating judge, K.D. Wentworth said.
THE FORTH QUARTER WINNERS ARE
Patrick O'Sullivan 1st Place - from Virginia
Jeffrey Lyman 2nd Place - from New York
Adam Perin 3rd Place - from Virginia
They were chosen from a group of 8 finalists and are now awarded cash prizes, a week long intensive workshop, an awards ceremony and are also published in the annual L. Ron Hubbard Presents Writers of the Future. Patrick, Jeffrey and Adam will receive a cash prize for their win this quarter.
Patrick, as first place for the quarter, will now compete with the 1st place winners of the previous three quarters for the Grand Prize of $5,000.00.
Contest judges include, Tim Powers, author of On Stranger Tides, Kevin J. Anderson and Brian Herbert, Dune, Anne McCaffrey the Dragons of Pern series, Robert J. Sawyer Flash Forward, Robert Silverberg, Sailing to Byzantium, Larry Niven and Jerry Pournelle, A Mote in God's Eye, and Orson Scott Card, The Abyss, to name a few.
Literary legend L. Ron Hubbard started the contest in 1984 to help new writers get a leg up in a very competitive field. The contest has launched the careers of hundreds of authors and 8 New York Times bestsellers.
For more information about the contest, go to http://www.writersofthefuture.com.
On the home page click on "contest rules."
# # #