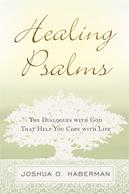 Washington (Vocus/PRWEB) January 22, 2011
The Book of Psalms is one of the most well-known and beautifully written books of the Bible. Many people turn to it for its words of wisdom, advice or observations. Healing Psalms (published by CrossBooks), the new book by Rabbi Joshua Haberman, acts as an accompaniment to the best selling book of all time.
Healing Psalms is a commentary to the 150 psalms, and was created to help the reader cope with the problems of everyday life, ranging from specific problems to feelings of love, grief, happiness or depression. Also included is an index which guides readers to the appropriate psalm that relates to their current situation.
Haberman's book will appeal to readers because of its clarity in explaining the sometimes complex passages of the Book of Psalms. He also develops interesting topics for reflection on the challenges and problems of daily living while encouraging belief in a personal God.
Friendly and easy to comprehend, Healing Psalms will appeal to both the casual reader and Bible class leaders alike because of its conveyance of the Psalms as a current and relevant collection of writings to problems and challenges of the human condition.
About the Author
Rabbi Joshua Haberman is an author and lecturer, as well as an acclaimed preacher and Bible teacher. Born in Vienna, he began his studies at the University of Vienna but had to flee during the Nazi occupation and completed his studies at the University of Cincinnati and the Hebrew Union College where he was ordained and earned a doctorate in modern religious philosophy. He preached at the White House and co-officiated with Billy Graham at the nationally televised 9/11 memorial service at the National Cathedral. Haberman is also the co-founder of the Catholic-Jewish Dialogue in Washington, and is a leader in inter-religious relations with Evangelical Christians and American Muslims. He is married with four children, 15 grandchildren and 11 great-grandchildren and has a second home in Jerusalem.
CrossBooks, a division of LifeWay Christian Resources of the Southern Baptist Convention, is a Christian publishing company committed to bringing more Christian voices into the publishing industry. For more information, visit crossbooks.com.
###