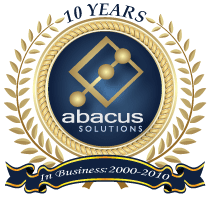 We provide IT solutions and services, in addition to keeping a huge inventory of IT equipment.
Marietta, GA (Vocus/PRWEB) January 23, 2011
Abacus Solutions, a premiere IT infrastructure solutions provider, has created a completely new website to showcase the solutions, services, and products they offer.
The updated site is now divided into five key sections making it easy to navigate. The site begins with the Abacus solution set. Abacus offers IT solutions around virtualization, storage and networking. They customize information technology solutions that work within specific business requirements. Solutions include server consolidation, data storage, business continuity and recovery, email archiving, network security, network optimization, and wireless and LAN solutions.
The services section highlights the infrastructure management services that Abacus offers to simplify the management of the data center. This section hosts the hardware maintenance pages, support, data hosting, IT asset disposal, IT equipment leasing, renting, and the Abacus buy-back program.
The products section is where users can view Abacus' robust server, storage, and network equipment offerings. This section displays all of the new equipment that is available through the Abacus channel partnerships, including Dell PowerEdge, Dell EqualLogic, EMC, NetApp, Aruba, Fortinet, Neverfail, Nexsan, Juniper, F5, Brocade, Falconstor and VMware. Customers can also view available refurbished equipment from product lines such as IBM iSeries, pSeries, xSeries, IBM Storage, Sun, HP 9000, HP ProLiant, and Cisco.
The company section explains the Abacus Solutions' values, as well as contains archives of the press releases and company newsletters. On the partner's page, Abacus lists the company's channel partners, with a link to their dedicated landing pages.
"Our new site reflects the many offerings we can deliver to our customers today," said Patrick Hiller, CEO of Abacus Solutions. "We provide IT solutions and services, in addition to keeping a huge inventory of IT equipment."
About Abacus Solutions
Abacus Solutions strategically combines products, services and resources to deliver IT infrastructure solutions that solve your business needs. The company architects multi-platform enterprise-level, server, storage and networking solutions by offering technologies from leading vendors. Products include servers, software, new and refurbished networking equipment and storage solutions. Whether new or expertly refurbished and warrantied equipment is needed, Abacus works directly with, and across, the purchasing and IT departments at both strategic and deep-dive technical levels to match the right solutions, services, and products to the company's direct needs and budget. For additional information, call 770-738-1101, 1-800-605-5446 or visit abacusllc.com.
###