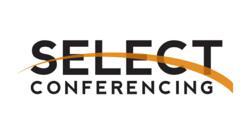 In addition to our high service quality, we are the only conferencing provider that provides a low price guarantee.
Austin, TX (Vocus/PRWEB) February 14, 2011
Select Conferencing now guarantees all the top rated audio conferencing, web conferencing, and video conferencing products and services on the market today. Organizations all over the globe utilize Select Conferencing services at the lowest rates in the industry. In fact, Select Conferencing is the only conferencing provider in the world that offers a no strings attached low price guarantee.
Thousands of companies have taken advantage of their remarkable conferencing partnerships. Instead of resting on their laurels, the company continues to search out cutting edge products and services so their customers always have access to the very best conferencing products.
Select Conferencing is so confident in their products and services, customers never have to worry about contracts or commitments. The outstanding service they provide ensures the loyalty of their customers. Every customer is guaranteed to receive top of the line customer service, training and support with a dedicated U.S. manager, regardless of the size of their organization.
CEO, Jerry Goldman, explains how Select Conferencing continues to be an industry leader.
"The partnerships we have secured over the past twelve months will allow our customers to receive a service quality and value unmatched in the audio and web conferencing industry. Every one of our customers receives personal attention from our dedicated account team regardless of their company size.
In addition to our high service quality we are the only conferencing provider that provides a low price guarantee. Our customers stay with us for years because they simply can't find a provider that can match our rates and service quality. It's no surprise that our customer retention is the absolute best in the conferencing industry."
Audio, web, and video conferencing are critical business tools for most organizations. When your company decides to utilize these services, Select Conferencing is the absolute best provider available.
For more information about Select Conferencing, email us at jerry(at)selectconferencing(dot)com, or call 866-294-9070.
# # #