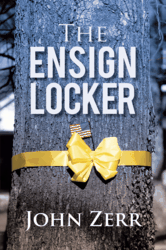 ST. CHARLES, MO. (Vocus/PRWEB) January 26, 2011
In a time of national and political strife, a new book tells the story of a young man who comes to believe it is more important to battle the country's strident anti-establishment voices than it is to battle the North Vietnamese.
In his debut book The Ensign Locker, author John Zerr brings readers to 1960s America as the country is striving toward a broader social justice. Aboard the USS Manfred, a U.S. Navy destroyer, five junior officers wage their own share of the national moral clash. The difficulty is most dramatic for Jon Zachery as he struggles in his own transition from civilian to military service and trades youthful naivety for adulthood.
"There isn't much in print about the destroyer Navy and its contribution to the Vietnam War," says Zerr.
Aiming to provide readers a better understanding of the Vietnam War and how the events of the 1960s shaped modern America, The Ensign Locker addresses the pursuit of individual happiness vs. the concept of service to country.
As Zachery finds himself confronting the notion of "service" in the term "military service," Zerr details the national political conflicts that play out against a backdrop of the ship's combat engagements with the Vietcong and North Vietnamese.
"There is plenty wrong with how the war was fought," says Zerr. "But neither the mistakes nor the atrocities are valid arguments supporting the notion that fighting the war was wrong."
Confronting the overall unpopularity of the war, The Ensign Locker addresses the many layers of struggle with which servicemen grappled, both home and abroad, and gives new perspective to the notion of patriotism.
"In 1865, the nation determined that preservation of the union was more important than preserving states' rights," says Zerr. "One hundred years later, the question was: Are individual rights more important than preservation of the union?"
About the author
John Zerr served on destroyers, an amphibious ship and aircraft carriers during his 36 years in the U.S. Navy. During the Vietnam War, Zerr completed three deployments to the Tonkin Gulf. He retired from the Navy in 1995 and spent 11 years in the aerospace industry, retiring in 2007.
Zerr holds a Bachelor's degree in electrical engineering from Purdue University and a master's degree in aeronautical engineering from the United States Naval Post-Graduate School. He and his wife, Karen, live in St. Charles, Mo., where he serves on the advisory board of his former high school and on the finance committee of his church. This is his first book.
# # #