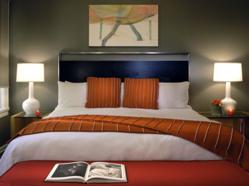 Seattle, WA (Vocus/PRWEB) January 26, 2011
The artful Seattle hotel offers an anti-love, anti-Valentine's Day package for all those who despise and dread the romantic holiday. Hotel Max provides a perfect excuse and location to revolt.
Singles and friends will embrace this holiday with a blow-up doll named John (nice enough to bring home to mom!), a copy of Chicken Soup for the Single Soul, Pussycat Dolls CD (yay for female independence!), a Max vibrator, VIP gift certificate to Seattle's single club Pink, in-room movie, cocktails ($20 food and beverage voucher for Red Fin), valet parking and a comfy room for the evening.
The package is available from February 11 thru February 14 with rates starting at $389.
To book this package, call 206.728.6299 or visit http://www.hotelmaxseattle.com.
With 39 artists adorning the walls and corridors of the lobby and 163 guest rooms, every step represents an artful experience and direction. Sophistication meets warmth with flat-screen televisions for sleek lounging, mosaic-tiled bathrooms, only-the-most luxurious beds and scrumptiously self-indulgent linens, along with unique fabrics in the most subtle hues – all meant to subtly recede as the art is the focus.
About Hotel Max
Like its sister hotel in Portland, Ore., the Hotel Lucia (Travel + Leisure's Top 500 Hotels in the World), the Hotel Max (866.833.6299; 620 Stewart St., Seattle, Wash., 98101) is unique in Seattle with its art-inspired design and magnified focus on personal guest services. For more information and media visits, please contact Dina Nishioka for details at 503.295.2122 x223. To whet your palette for design, visit http://www.hotelmaxseattle.com.
###