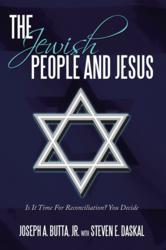 Baltimore, MD (Vocus/PRWEB) January 26, 2011
A new book develops a case for reconciliation between the Jewish people and Jesus.
In his debut book The Jewish People and Jesus, author Joseph Butta invites both modern-day Jews and non-Jews to make informed decisions, free of rabbinical commentary, by engaging in a practical format that answers questions. The book provides traditional Jewish "objections" against accepting the New Covenant, followed by a response providing an answer for those traditional objections. With carefully mapped-out arguments that become a series of connections, the book portrays traditional Jewish objections in a form that ultimately lets the reader decide how they feel about reconciliation.
"I wrote the book in a connect-the-dot, logical fashion," says Butta. "Ultimately the reader is encouraged to make a decision, which could be the most important decision they ever make."
Taking aim at logic and common sense and addressing controversial aspects of faith, Butta questions where in the Tenakh/Old Covenant were rabbis given the authority to tell Jewish people that their acceptance of Yeshua negated their Jewishness.
Butta also alludes to biblical ignorance among people who call themselves Christian. Introducing Christians to traditional Jewish perspective, The Jewish People and Jesus brings to light the importance of understanding Christian anti-Semitism and the 2,000-year wedge it helped form between Christians and Jews.
"Speaking about these issues face-to-face can cause verbal conflict," says Butta. "This book allows both points of view to surface and the reader to decide, conflict-free."
About the author
Joseph Butta is an independent analyst with a background in Middle Eastern studies, including the three monotheistic religions that began in that region. He provides briefings for local, federal and foreign audiences in the U.S. and Europe. He works for the HALO Corporation as a course presenter and provides threat analysis for an operations security support staff.
Butta holds a Bachelor's degree in business administration from Towson University. He is a member of the Institute for Christian Jewish Studies and plays in the Little Italy Bocce League. He and his family reside in Maryland. This is his first book.
# # #