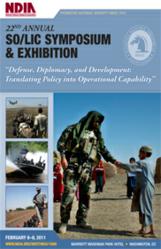 Speakers and Panel Members will address the challenging demands of today's complex environment
Washington (Vocus/PRWEB) January 26, 2011
The National Defense Industrial Association(NDIA)is holding its 22nd Annual Special Operations/Low Intensity Conflict (SO/LIC) Symposium and Exhibition (http://www.ndia.org/meetings/1880) at the Marriott Wardman Park Hotel in Washington, D.C., Feb. 8-9, 2011. The event will address the theme: "Defense, Diplomacy, and Development: Translating Policy into Operational Capability."
The two-day event features members and representatives of the military, government and defense industries who will lead attendees through a comprehensive series of discussions and presentations based on a whole-of-government approach to national security.
Speakers and Panel Members will address the challenging demands of today's complex environment and how Special Operations Forces can use multidimensional tactics to accomplish national security directives. Slated topics related to the "Lessons From the Field" theme include interagency integration and roles in information operations.
Confirmed Keynote Speakers (in order of appearance) are:

ADM Eric T. Olson, USN, Commander, U.S. Special Operations Command;
Brig Simon Hutchinson, UK, Deputy Commander, NATO Special Operations Forces Headquarters;
ADM Michael Mullen, USN, Chairman, Joint Chiefs of Staff;
Gen Norton A. Schwartz, USAF, Chief of Staff, U.S. Air Force; and
Dr. Janine Davidson, Deputy Assistant Secretary of Defense for Plans, U.S. Department of Defense.
The R. Lynn Rylander Award and the DeProspero Lifetime Achievement Award will be presented at the Awards Banquet on Feb. 8, 2011:
General Pete Schoomaker, USA (Ret) will be presented the Rylander Award for 2010. Named for one of the earliest fathers of our nation's current SO/LIC capabilities, the award is the highest honor which can be bestowed by the SO/LIC Division.
Chief Master Sergeant Wayne G. Norrad, USAF (Ret) will be presented the DeProspero Award for 2010, named after Colonel Al DeProspero, USA (Ret,) and an honor which recognizes a single individual whose distinctive lifetime achievements in the areas of SO/LIC cause him or her to stand out from this crowd of elite warriors.
Individual Achievement Awards, as well as the 6th Annual SO/LIC Essay Contest Awards, will also be presented at the Awards Banquet.
The National Defense Industrial Association (NDIA) is America's leading Defense Industry association promoting national security. NDIA is proud to provide a legal and ethical forum for the exchange of information between Industry and Government on National Security issues. Our members foster the development of the most innovative and superior equipment, training, and support for the warfighters and first responders represented by our Divisions.
# # #