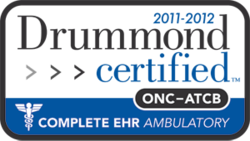 We're proud that we work with one of the first electronic health record companies to receive its certification.
Irvine, CA (PRWEB) January 27, 2011
Acentec Inc., a long-standing provider of electronic medical records, now offers certified EMR services provided by Medinformatix. Medinformatix recently received its certified health documentation from Drummond Group Inc., an Authorized Testing and Certification Body of the Office of the National Coordinator (ONC-ATB). Acentec is now eligible to offer EHR services to medical facilities that wish to qualify for the Stimulus under the American Recovery and Reinvestment Act.
"We're proud that we work with one of the first electronic health record companies to receive its certification," said Jeff Mongelli, CEO of Acentec, "Others will follow, but we wanted to be at the head of the class for such an important change to the medical industry."
Medical facilities that convert their operating systems to electronic health records can qualify for a stimulus that will offset the cost of the software and implementation, but only if the facility employs the aid of a certified EHR provider like Acentec.
Acentec provides a variety of products and services that help digitize medical offices and facilities, saving the businesses time and money. For more information, please visit http://www.acentec.com.
This Complete EHR is 2011/2012 compliant and has been certified by an ONC-ATCB in accordance with the applicable certification criteria adopted by the Secretary of Health and Human Services. This certification does not represent an endorsement by the U.S. Department of Health and Human Services or guarantee the receipt of incentive payments.
MedInformatix, October 22, 2010, Version 7.5, 1022201024238, Clinical Quality Measures: NQF0013, NQF0421, NQF0041, NQF0024, NQF0028, NQF0038, NQF0059, NQF0061, NQF0064. Additional software used: TrueCrypt v2.0, email software, spreadsheet software.
About Acentec Inc.
Acentec Inc. is a leading national provider of fully integrated Electronic Health Records. We offer turn-key solutions engineered to maximize a physician's ROI. The products have been built around MedInformatix's 25 years of medical practice workflow expertise. Our product is designed on a single database using Microsoft SQL. Whether the installation is a single physician who went live in 1994, a national Cardiology practice, or one of 15 other specialties we service, we accommodate their needs.
# # #