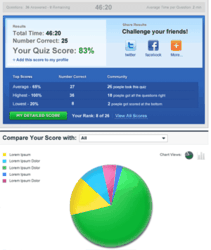 We are dedicated to providing users with collaborative products that help students of all ages learn more effectively.
Santa Monica, CA (Vocus/PRWEB) January 27, 2011
FunnelBrain LLC today announced the launch of a new user generated quiz engine for FunnelBrain's online learning community. FunnelBrain Online Quizzes help learners of all ages work together to improve test scores and academic performance. The quiz platform, available free of charge on FunnelBrain, provides access to the thousands of existing quizzes or allows students to create their own.
The new quiz brings social gaming concepts to the learning process with real time leader boards, instant score analysis, and the ability to share quiz challenges with friends across the social graph and compare results against various data points including location and education level.
"We are dedicated to providing users with collaborative products that help students of all ages learn more effectively, " said Joe DeTuno, FunnelBrain CEO. "We know working together is more fun and helps people learn more effectively. Our new collaborative "game-based" quiz experience will enable students and teachers to learn and have fun in the process."
FunnelBrain's new quiz engine provides another level of interaction between test takers. With the highly anticipated new challenge feature, FunnelBrain users can create a quiz, post results, challenge classmates and instantly compare how they rank against their peers ad the community.
Highlights of FunnelBrain's online quiz experience:
Quiz Page – Designed to test knowledge of any subject area with easy to use features including multiple choice questions, photos, and study stats.
Quiz Results – Provides a detailed view of a students results compared against other test takers and data comparison points.
Leader Board – View top scorers and overall rankings of peers and the community.
Detailed Results – See exactly what questions you missed and view the correct answer.
Contrast and Compare – FunnelBrain will allow you to compare your score on several additional data points including location, level of education and even the graduation year.
The improvements to FunnelBrain Online Quizzes are just the beginning of continual efforts to provide enhanced study tools for today's active learners.
We invite you to visit FunnelBrain.com and see the power of collaborative learning first hand. To view a list of existing quizzes or to create your own, visit http://www.funnelbrain.com.
About FunnelBrain.com
FunnelBrain is an academic question and answer website that is created, edited, and organized by the students, teachers and life learners who use it. The information is organized into Study Decks and Study Teams that can include all types of rich media such as photos, videos, audio voice recordings and math equations. Users work together to create information for a class, a shared interest or anything they want the world to know about. To learn more, please visit http://www.funnelbrain.com.
###