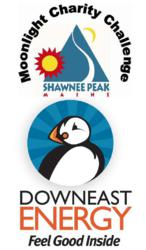 Shawnee Peak's support over the last 10 years has been instrumental in Camp's ability to provide "Winter Weeks" for our families. - Matt Hoidal, Executive Director, Camp Sunshine
Bridgton, ME (Vocus/PRWEB) January 27, 2011
Shawnee Peak owner, Chet Homer, announces the 16th Year of Moonlight Charity Challenge Presented by Downeast Energy on February 4, 2011. This nighttime ski/snowboard race event raises money for Camp Sunshine, a retreat for children with life-threatening illnesses in Casco, ME, and the Shawnee Peak Adaptive Program.
Teams of four skiers or snowboarders race a modified slalom course for prizes and bragging rights. The real reward is knowing that you are raising money for two incredible programs.
Participating skiers can join a team for a $75 individual fee or put a team together for a $300 fee. All participants receive a free lift ticket for that day, night race, dinner and an event t-shirt.
Camp Sunshine serves children under active treatment for cancer, kidney disease, lupus and other illnesses. Since the program's inception, more than 35,000 family members from 47 states and 17 countries have been a part of Camp Sunshine. The Camp focuses on alleviating the strain a critical illness takes, not only on the ill child, but also on other members of the immediate family. There is no charge to participating families.
"Most of the proceeds from Moonlight Charity Challenge help fund our 'winter weeks' programs," said Matt Hoidal, Executive Director of Camp Sunshine. "Before becoming a preferred benefactor in 2001, Camp had never been able to offer winter programs. Now, our families can enjoy Camp Sunshine in winter, which always includes a ski trip to Shawnee Peak."
The Shawnee Peak Adaptive Ski Program was started in 1990 as an outlet for the local school system and their small group of special needs children. Today, it has grown to serve more than 100 children and adults weekend from three counties. School groups and adult outreach programs, as well as individuals, are welcome to join this program. Volunteers allow for one-on-one coaching with updated ski equipment, such as the bi-ski that allow paralyzed skiers freedom on the slopes.
Get involved! Beginner, intermediate and advanced skiers and snowboarders are welcome to register. Teams can consist of skiers and riders of varying abilities. Contact Melissa Rock at Shawnee Peak at 207-647-8444 or Matt Hoidal at Camp Sunshine at 207-655-3800.
Since 1994, Moonlight Charity Challenge events have raised more $400,000 for national, regional and local charities.
# # #