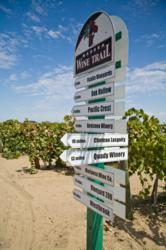 Madera's warm climate and geographical features gives our winemakers the ability to craft wines that offer distinct flavors of unique varietals.
Madera, California (Vocus/PRWEB) January 27, 2011
The Madera Vintners Association's family wineries are proud to present the Madera Wine Trail's "Wine and Chocolate Weekend" on February 12 and 13, from 10 a.m. to 5 p.m. Celebrate Valentine's Day with your loved one and friends as you taste the award-winning wines of the Madera Wine Trail!
Madera's warm climate and geographical features gives our winemakers the ability to craft wines that offer distinct flavors of unique varietals. Wine Trail visitors will have the opportunity to taste a variety of aperitif, table and dessert wines that are sure to satisfy any palate! There will be indulgent chocolates and truffles, food, local art and live music along the trail, providing the perfect setting for Valentine's Day celebrations.
Give Wine! Are there wine enthusiasts amongst your family and circle of friends? Then, share the gift of Madera wines. Say 'I love you' with the gift of wine and pick out just the right varietal for that special person.
Ticket Information
Madera Wine Trail Passport Glasses are available for $25 from any participating winery both days of the event, and is your pass to free wine-tasting on the Trail all weekend long!
Pre-sale tickets are available for $20 and may be purchased in person at the following locations thru February 11, 2010:
Birdstone Winery
Chateau Lasgoity
CRU Wine Company
Ficklin Vineyards
Idle Hour Winery (Oakhurst)
Quady Winery
San Joaquin Wine Company
Vino & Friends
Designated Drivers are always welcome on the Madera Wine Trail, and they are always free. Be sure to ask for a "Designated Driver - Madera Wine Trail" VIP kit at your first stop on the Trail!
Participating Wineries
Birdstone Winery - 9400 Road 36, Madera, (559)645-1825, http://www.birdstonewinery.com
Begin your 2011 Madera Wine Trail Wine & Chocolate Weekend experience at Birdstone Winery. Birdstone will host live music with two terrific bands, Bellarios on Saturday and the Henderson Project on Sunday. For lunch each day enjoy a delicious dish of Mazzoni Penne Pasta, a garden fresh Salad, and garlic bread or Bruschetta topped with Pesto and Roma tomatoes - all prepared by Chef Michael Mazzoni and Chef Cathy Barrows. Great food, music, award winning wines, specialty chocolates and warm friendly people make Birdstone Winery a necessary stop on this wine trail adventure. Come taste the Passion.
Chateau Lasgoity - 11219 Road 26, Madera, (559)674-8291
Please join us at Chateau Lasgoity during the February Wine and Chocolate Wine Trail Weekend. Where you will find exceptional wines offered at great prices. Live music Saturday and Sunday provided by Mary Smith and Anita Pazeian of Harps at Play. Lunch is available from Full-O-Bull deli of Madera. Woodcrafters Cindie and Phil Goff of Casitas Trading Post in Coarsegold will display furniture made from recycled wine barrels. The Sierra Lions Club will be featuring an assortment of dark chocolate covered strawberries, nuts and pretzels for your taste buds indulgence. Chateau Lasgoity will also be providing barrel samples of our 2009 Pinot Noir. We look forward to seeing you at the Chateau!
CRU Wine Company - 20146 Road 21, Madera, (559)673-6372, http://www.cruwinecompany.com
Experience a fairy tale romance by coming to CRU Wine Company for Wine and Chocolate Weekend where we are transforming the winery into a land far far away. Bring your sweetie and indulge in luscious wine, including all our new releases, and delectable treats. We are known for our exceptional coastal Pinot Noir and Chardonnay but have many delicious and unique varietal blends to be experienced as well. Shakey's acoustical guitar music will be gracing our wine kingdom while Sissy's BBQ will be providing enough delicious food to promote a feast fit for a king (or queen). Come and savor No Joka Roca's mouth-watering toffee, The Frosted Muffin's captivating cupcakes and Truffle Gateau's luscious Belgian Chocolate all within the same castle walls. There are numerous other vendors, gifts and surprises in store so come to CRU to discover what is awaiting you in your Happily Ever After.
Ficklin Vineyards - 30246 Avenue 7 ½, Madera, (559)661-0075, http://www.ficklin.com
Ficklin Vineyards invites you to experience friendly people and over 60 years of valley wine making history. Taste our extraordinary ports and outstanding table wines. Explore the vineyard to see the gnarly old vines of classic Portuguese port grape varieties, tour the historic adobe wine cellar, see the antique wine-stained basket press, and count hundreds of well-used barrels filled with port, mellowing with age.
For this special weekend Ficklin Vineyards adds to the usual winery charm with lively music, delectable chocolates, fine small-lot cheeses, beautiful handcrafted jewelry, fragrant cigars and cigar-rolling demonstration by Aldo Rodriguez of Casa de Tabaco, charming wild cats from the non-profit Project Survival Cat Haven, and savory tri-tip sandwiches. We are here to make your Wine and Chocolate Weekend wonderful!
Idle Hour Winery - 41139 Highway 41, Oakhurst, (559)760-9090, http://www.idlehourwinery.com
Start your wine trail at Idle Hour Winery! Celebrate Valentine's Day with your sweetheart amid spectacular mountain views! Taste our award-winning wines while enjoying our 6 acre property on the Fresno River. We will be pouring our new Pinot Noir, Viognier, Cab Franc, Cab Sauvignon, Tempranillo and Syrah and barrel-sampling new vintages. Bring a picnic! Local artists: photographer Rikki Alley and painter Judy De Rosa, will display beautiful photos of the Yosemite mountains area, paintings and handmade jewelry. Local musicians will entertain you! Or better yet, end your wine trail day at Idle Hour Winery and book a room to celebrate with your sweetheart at the Queen's Inn Saturday evening, where you can enjoy the blazing fire pits and a great selection of wines and beer in the wine bar! Call 559.683.4354 to make your room reservations today!
Quady Winery - 13181 Road 24, Madera, (800)733-8068, http://www.quadywinery.com
Quady Winery is excited to celebrate its 10th annual art show Reveiller, an Exhibit of Regional Artists. From the many artists that have been juried in the show over the past nine years; thirty have been invited to return and display their work for this unique event. Diverse media in sculpture, painting, photography and installation art will be displayed. Art lovers and wine aficionados alike will love this beautiful and ambient setting while sipping wine and enjoying sweet and savory treats. Our Muscat wines Essensia and Elysium will be paired with Chocolate Truffles. We will also be pouring Deviation, our mysterious herbal lover's romance wine that is perfect for a spectacular Valentine's Day. New releases of Electra and Red Electra will also be available. Our gift shop will be filled with Valentine items for your sweetie.
San Joaquin Wine Company - 21801 Avenue 16, Madera, (559)673-0066, http://www.sjwineco.com
Bring your sweetheart to San Joaquin Wine Company this February Wine Trail. It will be the last chance to win the beautiful diamond, amethyst and ruby pendant to benefit the Madera Community Hospital Foundation. The Foundation will be drawing the winning ticket at SJWC on Saturday afternoon. Plan on tasting our newly released 2008 Cabarnet Sauvignon, 2008 Zinfandel and our 2010 Muscato. All will surely please your palate! There will be chocolate and other delights to tempt your love! Enjoy the sounds of our Moody Press favorite, the Rhythm Review Band. Asian noodle boxes by Fresno caterer Michael Anthony will be available for lunch each day. SJWC looks forward to your visit.
Westbrook Wine Farm - 49610 House Ranch Road, O'Neals, (559)868-3499, http://www.westbrookwinefarm.com, Reservation Only
Set hearts aflutter with your first tastes of Point Blanc, our new co-fermented four grape white Rhone-style blend and Point Noir, a bold co-fermentation of three red Rhone varieties from our refreshingly inventive Farview Farm Vineyard series. Impress your sweetie with the uncommon complexities of our estate grown red Bordeaux style field blend, Fait Accompli,two diverse Cabernet Sauvignons, Uber Rhenish Dry Riesling, Viognier, Rosato Romantico and Gambono "G-3". You may even wish to purchase or place your pre-release orders at special weekend prices? Proprietors, Ray and Tammy Krause will be accepting but fifty reservations for each day from serious wine lovers so please call 559-868-3499 or email westbrookwine(at)netptc(dot)net to confirm yours soon. Thank you. http://www.westbrookwinefarm.com
Wines hand-crafted using the economies of skill.
Must be 21. A non-smoking property.
Tourism Partners
Visit Vino & Friends Wineshop to purchase Wine and Chocolate Weekend tickets and reserve your seat on the Madera Wine Trail shuttle, available both days. Call before January 30th for the Early-Booking Rate, shuttle includes Passport Glasses, Delicious Lunch & VIP discounts. 559-434-1771
Touch of Class Limousine Service is committed to providing you and those with whom you choose to drink ground transportation services for individuals, entire companies or romantic couples. Call for more information about special travel rates for Wine and Chocolate Weekend: 559-438-5466
The Redwoods in Yosemite ~ Vacation homes to fit every travel need and budget! Make your wine tasting weekend a mini-vacation! Escape to The Redwoods for a romantic mini-vacation during the month of February. Stay 3 nights and receive sparkling wine and chocolates upon your arrival. You'll also receive discounts for Badger Pass Ski Resort, Ice Skating, Spa Packages and Dining! http://www.redwoodsinyosemite.com 877-565-5739
The Vineyard Restaurant in Madera will be open for lunch & dinner Saturday February 12 from 11:30 a.m. to 10 p.m. and Sunday February 13 from 4 p.m. to 8 p.m. Sunday evening, The Vineyard Restaurant will be serving their special Valentine's Day menu! Free Corkage will be offered on Madera Wine Trail wines all weekend. Contact the Vineyard at 559-674-0923
Sierra Heritage Magazine - The largest & oldest magazine serving the Sierra Nevada region. http://www.sierraheritage.com
Madera Wine Trail Presents
Wine and Chocolate Weekend
February 12-13, 10 a.m. to 5 p.m.
Pre-Sale Tickets Available at Select Locations or
Online at http://www.MaderaWineTrail.com
Contact: Wendy Eachus
800.613.0709 C: 559.706.8216
wendy(at)maderavintners(dot)com
Madera Vintners Association
###