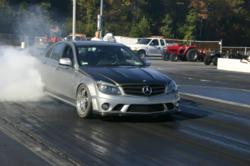 The performance this car has when unleashed by these products is almost unbelievable!
Columbus, OH (Vocus/PRWEB) January 29, 2011
Modern Horsepower, otherwise known as MHP, an aftermarket automotive performance tuning company has recently raised the bar again, by breaking their own 1/8th and 1/4 mile records for the World's fastest Mercedez Benz 63 AMG. Racer Mike Conforti made history by running a 10.87@131.48 in the 1/4 mile and 7.00@100.55 in the 1/8th mile in his MHP S2 C63 AMG at M.I.R. on January 6th 2011. Mike's MHP Stage 2 package consists of v4 CDT (ECU/TCU Tuning) and Modern Horsepower's 100% bolt-on Stainless Steel Longtube Headers & Mids. This makes Mike's C63 AMG both the World's Quickest and Fastest Overall and Naturally Aspirated 63 AMG in the World, as well as the Quickest and Fastest Naturally Aspirated Mercedes Benz ever. At the same event Mike's car recorded a V-Box verified 0-60mph time of 3.1 seconds, 0-100mph was accomplished in 7.0 seconds, and 60-130mph was dispatched in 8.2 seconds with 2 shifts!
Mike's C63 AMG includes the following modifications: MHP v4 CDT, MHP LT Headers & Mids, MHP 180F Thermostat, MHP Thermal Intake Gaskets, Lightweight Brake Rotors, Airboxes and Filters, Carbon Fiber Hood & Trunk (-60lbs), Drag Wheels and Drag Radials. Post modification Mike's C63 weighed in at 3930lbs! Mike's exploits as well as those of several other MHP customers can be found on the popular automotive enthusiast website http://www.DragTimes.com.
We caught up with Mike and asked him what he felt about his runs at MIR. Mike commented, "I was really impressed by how the car performed, and look forward to adding MHP's Race Ported Cylinder Heads, MHP Custom Rifle Drilled 9310 Billet Camshafts, MHP's 3" Race Catback with X-pipe, and /or a nitrous system." Mike went on to state, "The performance this car has when unleashed by these products is almost unbelievable." Mike states, "I have no question that by adding more of MHPs products by the next race on February 18, 2011 we will run quicker and faster yet."
As the automotive industry continues to evolve in efforts to produce faster and more efficient vehicles that comply with modern safety and emissions regulations, Modern Horsepower's President Andrew Cluck states "In order to be successful in this business, and aside from possessing the knowledge and experience required of the craft itself, you must have passion, and that is one of the virtues we have in excess at MHP. With the release of our custom ground billet camshafts and matching software, our plan for maximizing the potential of the M156/M159 series of engines (aka 63 AMG and SLS engines) has now come full circle." Mr. Cluck states, "We at MHP congratulate Mike on his many successes and look forward to February at MIR." MHP would also like to thank Craig @ RPM North in NY for his contributions in Mike's continuing on-track successes.
MHP retains it's other world records including both tune only and further modified 63 AMG Standing Mile Records from previous events including Jim Barnhill's 172.24mph run with a MHP v3 CDT (tune only) C63 and Keith Brantley's MHP Stage 3 C63 which trapped 180.73mph, again naturally aspirated, at the same standing mile event--also participating were two Corvette ZR-1s both running 179mph, and a Porsche Carrera GT trapping 178mph. With a 125hp shot of nitrous via a custom MHP Nitrous System Keith's car ran an astounding VBox verified 6.66 seconds 60-130mph with 1 shift during a 1/4 mile pass at PBIR in Florida, which is both the Overall and Power Adder M156/63 AMG 60-130mph Record. The Standing Mile and additional VBox results further attest to MHP's all around dominance of the 63 AMG performance aftermarket.
Since the inception of the M156/63 AMG engine by Mercedes Benz AMG, MHP has been pushing the envelope via extensive research and development and by adding proven products to their existing and already impressive list of offerings. One of MHP's first and most popular AMG aftermarket products is their 1 7/8" Stainless Steel Longtube Headers & 3" Mids, featuring a Lifetime Warranty on all parts and workmanship and 100% bolt-in design with no cutting or welding required. With matching v3 CDT software MHP's Header and Tune package regularly increases output from 451HP to 600HP and torque from 442lb/ft to 555lb/ft, and allowing for a 204mph plus top speed.
Forza 3 fans take note, video game gurus Turn 10 worked with a MHP S2 C63 customer by recording his car on a dyno for use in the game--if you partake in Forza 3 and happen to have a C63 with race exhaust you are hearing an actual MHP S2 C63. Here's an excerpt from the article including a comment from the lead sound engineer about the sound produced by the 380 cubic inch V8, now able to exhale at 7000rpm:
"The stock C63 is not a quiet car, but this one was absolutely insane — it was thick, crackly, and mean, as if the entire state of Alabama had been crossbred with a DTM car and an angry bull moose. Earplugs with a 20-decibel cut were not enough. Small children were sterilized. A week later, my ears still hurt. Caviezel called it "one of the best engine recordings I've ever heard."
http://jalopnik.com/5478591/inside-forza-motorsport-part-ii-making-the-cars-sound-awesome?skyline=true&s=i
A full blown MHP Stage 4 car including all available modifications without nitrous bumps output to an astronomical 700HP and 590lb/ft. MHP also carries custom nitrous kits with shot sizes ranging from +50-300HP.
MHP's complete line of products can be found by visiting Modern Horsepower online at http://www.modernhorsepower.com,. You can also reach MHP by contacting them directly at 614-940-9523 or by emailing sales@modernhorsepower.com. Follow MHP on Youtube: ModernHorsepowerLLC and also on Facebook: Modern Horsepower
This press release was distributed by Localize It, a Columbus OH website design and Local Search company. Visit Localize It online at http://www.localizeitnow.com
###