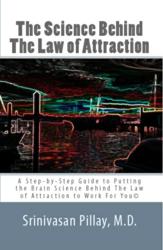 Cambridge, MA (Vocus/PRWEB) January 29, 2011
Each of us started 2011 with a list of resolutions and the best of intentions. Most commonly, our resolutions resolved around things like losing weight, finding someone to love or improving our current love relationship, advancing professionally, paying off bills and increasing savings, purchasing a home. However, even at this early point, many of us will sheepishly admit to forgetting precisely what it was we set out to do, having basically settled back into the comfort of our familiar habits.
What's the answer? Are we condemned to this endless yearly ritual of good intentions, broken resolutions and regret? Not in the least, says Dr. Srinivasan Pillay, and he can tell your audience why he says that with such confidence.
There is an age-old belief that you draw to your life what you put out, and that one's external circumstances directly reflect one's internal state. This is generally known as the "The Law of Attraction." While proponents and skeptics alike recognize that there is something that transpires, until now no one has taught us how harness this powerful force in order to change our lives so that what we want will come to us or the things we want to change will in fact change!
Enter Dr. Pillay, an assistant clinical professor of psychiatry at Harvard Medical School and a nationally funded brain-imaging researcher. Dr. Pillay recently wrote and published a small yet profound workbook called The Science Behind the Law of Attraction: A Step-by-Step Guide to Putting the Brain Science Behind the Law of Attraction to Work for You. In the book, which is based on his and other researchers scientific findings in this arena, Dr. Pillay provides brain-based exercises carefully designed to retrain the mind for specific beneficial or desired outcomes.
Highlights of the workbook, which demystifies the basic premises and process of The Law of Attraction, include:
1. The right and wrong way to talk to your unconscious brain
2. Why simply imagining what you want is not enough; how you imagine matters as well
3. Ways to achieve impossible wishes by tapping into how your brain works
4. Research-based strategies on how to effectively frame your intentions (based on principles from the ronco rotisserie!)
Dr. Pillay has also volunteered to teach a course at "The University of Attraction" (http://loaradionetwork.com/university-of-attraction.html), and registration is now open for the six-week course he is hosting to help the book's readers actualize their intentions and keep their resolutions.
For more information visit http://www.srinipillay.com.
# # #