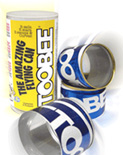 We think Toobee is a win-win because it because it encourages kids to exercise and because proceeds will save lives here in the US and overseas.
(Vocus/PRWEB) January 31, 2011
Greg Stromberg, president of an all-American toy company, is pleased to announce his company is supporting the non-profit organization called cannedwater4kids. His company gives 100 % of all of its profits from its Toobee toys to this great grassroots charity.
Greg thinks Toobee, the amazing flying can, is amazing not only because it is a toy which promotes a healthy active lifestyle for children, but because all proceeds from selling the toy goes to saving lives by providing fresh drinking water solutions both in the US and around the world.
Stromberg is concerned that children today are more interested in watching TV and playing video games as opposed to getting exercise. He is currently trying to get parents, schools and universities involved in playing with the Toobee because it is clean fun and good exercise. (See videos of the Toobee in action at http://www.Toobee.com)
Stromberg is using Toobee to help promote CannedWater4kids (CW4k) which is a 501c3 non-profit charity focused on bringing clean, safe water to children worldwide. CW4k plans to support certified clean water initiatives world-wide. Whether supporting the digging of wells, water filtration programs, or clean water education, donations will go to where CW4k thinks it will do the most good. All money collected by CW4k will go towards helping to bring clean, safe water to children everywhere. Every can sold keeps a child in a developing country alive for two months or longer.
Toobee is a win-win in that it encourages kids to exercise and drink water and helps save children's lives overseas.
"We think Toobee is a win-win because it because it encourages kids to exercise and because proceeds will save lives here in the US and overseas," said Stromberg. "More than a billion people—almost one-fifth of the world's population—lack access to safe drinking water and it is estimated that 5,000 children die each day as a result of unsafe drinking water. If we can raise money to combat global water problems while encouraging our own children to exercise I think it is a no brainer."
Stromberg has been fascinated with cans all of his life and 30 years ago bought the rights to Toobee. The Milwaukee Journal calls him a "Can Connoisseur" Stromberg calls Toobee the longest going unknown fad in world and is hoping this retro toy will find new life as he is begins using it to fund CW4k. Stromberg is donating 100% of all the profits from http://www.toobee.com to a charity he started called http://www.cannedwater4kids.org
For more information contact:
Greg Stromberg
President
Toobee International
NN69W23448 Donna Drive
Sussex, WI 53089
262-246-8480 Office
414-791-2450 Cell
http://www.Toobee.com
###