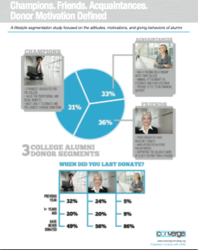 Cedar Rapids, Iowa (PRWEB) October 11, 2011
Converge Consulting - http://www.convergeconsulting.org/ - a multi-channel marketing firm for fundraising professionals in higher education, is proud to announce an alliance with the Council for Advancement and Support of Education (CASE) - http://case.org/ - to release the findings of a recently conducted national study on donor attitudes, motivations, and behaviors.
The study of 2,050 alumni of U.S. colleges and universities explores three questions:

What motivates people to give?
What differentiates those who give from those who do not?
Where and how should advancement professionals expend limited resources to maximize their results?
Ann Oleson, chief visionary officer of Converge, says the findings suggest that segmenting and communicating with potential donors based on a set of motivational characteristics may be more effective than segmenting them by class year, academic major, gender, or other categories that have traditionally been viewed as significant. She adds that the findings will help fundraising, alumni relations, and communications professionals:

Classify their alumni into three, distinctive donor types that will predict likely attitudes, motivations, and behaviors associated with giving. The types are describes as "champions," "friends," and "acquaintances."
Allocate resources more effectively by expending less time on those least likely to donate and more time on those who are not currently giving, but who are more likely to donate or increase donation amounts.
Connect with alumni via their preferred communication channels to increase the likelihood of a positive response.
Converge Consulting has agreed to make the research findings available to CASE members through three white papers that are being licensed exclusively to CASE. CASE will make the white papers available via its website to its members, who are alumni relations, fundraising, and communications and marketing professionals at more than 4,300 schools, colleges, and universities worldwide.
The first white paper, "Champions. Friends. Acquaintances. Donor Motivation Defined," is now available to CASE members online at http://www.case.org. Member login is required. A second white paper looking more deeply at donor motivation will be released in November and a third white paper on attitudes of young alumni will be released in January, 2012.
About Converge Consulting
Converge Consulting is a measurable multi-channel communications firm for higher education institutions that want to gain a deeper understanding of their target audiences and make data-driven decisions to impact ROI positively. Converge focuses on research, planning, assessment, and measurement to improve higher education marketing initiatives. For more information, visit http://www.convergeconsulting.org and/or contact Ann Oleson by phone at 319-804-5580 or by email at ann(at)convergeconsulting(dot)org.
# # #