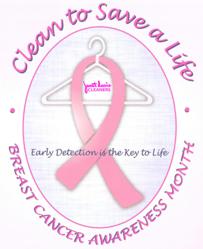 ...limited number of Key To Life wristbands available for a small donation...
Berkley, MI (PRWEB) October 03, 2011
In honor of Breast Cancer Awareness Month, Janet Davis Dry Cleaners is announcing their commitment to stir up awareness and help end the fight with breast cancer this October. Janet Davis will be packaging items specifically designed to raise awareness about breast cancer among their customers. Customers will have the option to donate to the American Breast Cancer Foundation directly, or donating to receive a pink Key to Life wristband.
Breast Cancer Awareness Month (BCAM) is an annual international health campaign organized by major breast cancer charities every October to increase awareness of the disease and to raise funds for research into its cause, prevention, diagnosis, treatment and cure. BCAM is also a prime opportunity to remind women to be breast aware for earlier detection.
Janet Davis Dry Cleaners, a family owned and operated company, has been a part of the local community since 1938. Very passionate about customer care, Janet Davis is committed to extending their quality care through providing hope, inspiration and support to their customers and community.
Support Breast Cancer Awareness by simply bringing in any regular cleaning to Janet Davis Cleaners during the month of October. Janet Davis Cleaners also has a limited number of Key To Life wristbands available for a small donation. Donations can also be made by calling (877) KEY-2-LIFE or online at abcg.org.
Janet Davis Cleaners services all of their customers dry cleaning needs in Southeastern Michigan, with dry cleaning delivery service throughout Oakland County and Wayne County. In addition they have locations in Berkley and Bloomfield. Janet Davis Cleaners has been featured on WDIV-TV, WXYZ-TV and WDVD radio. Learn more about Janet Davis Dry Cleaners and BCAM at http://www.JanetDavisCleaners.com.
# # #